Does God Speak to Us in Nature?
Dr. Roger Barrier, Preach It, Teach It
Friday, June 06, 2014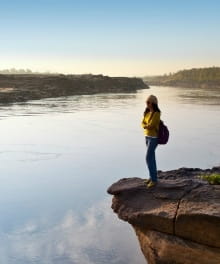 Editor's Note: Pastor Roger Barrier's "Ask Roger" column regularly appears at Preach It, Teach It. Every week at Crosswalk, Dr. Barrier puts nearly 40 years of experience in the pastorate to work answering questions of doctrine or practice for laypeople, or giving advice on church leadership issues. Email him your questions at roger@preachitteachit.org.
Dear Roger,
Why did so many people of the bible sit under trees or go into nature to hear God? I'm sure there is a connection… but is there a stronger connection for us with God in nature?"
Sincerely, Holly
Dear Holly,

The Bible records God speaking to many people in a variety of places. God can speak anywhere at any time and anywhere He wants. However, you are on to something when you ask about God speaking to people under trees and in nature.
Here are some Biblical examples of where and how God may speak. Notice that some are indoors and others outdoors.

• Jesus Christ speaks to us (Hebrews 1:1-3) when we read our bibles (Psalms 119:105) wherever we might be.
• God speaks to us when we are outside riding donkeys (Numbers 22:30).
• God speaks to children when they are in their bedrooms Bedtime (1 Samuel 3:8-9).
• God speaks to us when we are outside looking at the stars (Romans 1:20).
• God speaks to us in church (Isaiah 6:1-7).
• God speaks when we are sitting beside bushes (Exodus 3:1-4).
• God speaks to us when we are asleep (Joel 2:28).
• God speaks to us deep in our inner most human spirit (Jeremiah 29:12-13).
• God speaks to us during storms, wind, earthquakes and fire (1 Kings 19:11-13).
• God speaks to us when we are sitting under trees (Jonah 4:6).
• Finally, God speaks us to in nature when everything is quiet (1 Kings 19:13).
As you can see, God speaks in many ways and in various places. However, there is a difference between God speaking and our hearing Him.
The best way to hear God speak is to get alone and listen--especially in nature--basking in God's creation--as long as it is quiet and peaceful where you are. Throughout history the Christian mystics have championed this practice.
Let me recommend three books you will find useful. First, "Experiencing the Depths of Jesus Christ," by Madam Guyon. Next are the prayers and works of St. Thomas of Aquinas. Finally is a little book called, "Brother Lawrence" that you will find most special.
Let me share how this works for me.
First, I quiet down my mind. Isn't it amazing how much we can think about when we are trying to be quiet.

Second, every time my mind wanders, I try to take Paul's advice and get control of my thoughts by once again focusing on being quiet before the Lord.

Finally, when all is quiet, it is time to proceed.

I do this in three ways. I pray slowly and thoughtfully through a passage in the Bible and listen to see if I sense God speaking to me.

Sometimes I will contemplate a bible story and try to put myself, my emotions, feelings and behaviors right into the story. It always amazes me how much I sense God and am instructed by Him in these imagined stories.

Often, following the guidelines of Hebrews 4:12, I quiet my mind and allow the Word of God to "divide between soul and spirit." As I listen, I try to discern whether what I hear emanates from my soul (my mind), or from my deep, inner, human spirit where the Holy Spirit lives. The soul is the inner part of me which is my own mind or self. The soul is my organ for intellect, will and emotions (Hebrews 4:12). My human spirit is the center of my worship and communication with Jesus.

When properly cultivated, our human spirit is most dependable and useful in hearing God speak. God speaks to us in the Bible and we speak to Him in prayer. This is described as praying in the mind. The Holy Spirit also speaks to us in our innermost human spirit. We speak back from out of our innermost human spirit to the Holy Spirit. This what Paul calls praying in the spirit.

I am careful in listening for the voice of God. His is not the only voice that speaks. I don't want to be misled by my own imaginings, and I certainly do not care to be fooled by Satan's temptations, accusations, or deceits. Neither do I want to be led astray by human ignorance, stupidity or misguided spirituality.

During a worship service a woman whispered quietly to Julie: "I have a word from the Lord for you. You will be like the prophetess, Anna, in Luke 2. You will be widowed after seven years and spend the rest of your life ministering in sweet service to Jesus."

"Don't you see me standing here?" I wanted to ask. "Julie's my fiancé. We're getting married in June."

I held my tongue and looked at the young girl who would soon be my wife. If this nosy woman were right, I'd be dead in seven years. On our seventh anniversary I stayed awake until midnight just to be sure that the voice she had been listening to was not God's.

God's voice is not the only voice that speaks. Self and Satan can both wreak havoc in the lives of Christians who are unable to distinguish among the three.
Have something to say about this article? Leave your comment via Facebook below!
advertise with us
Example: "Gen 1:1" "John 3" "Moses" "trust"
Advanced Search
Listen to Your Favorite Pastors