Giving Up On God?
Dr. Roger Barrier, Preach It, Teach It
Wednesday, October 23, 2013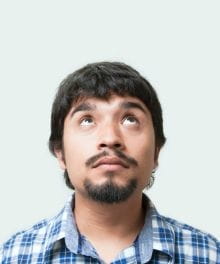 Our third daughter had 18 gall stones when she was a teenager. Imagine that! Gall bladder surgery followed. Finally, after suffering from life altering bipolar symptoms, they are now well balanced—after a decade of struggle.
So, when my son-in-law called to tell us that her esophagus was swallowing backwards, and that she needed another surgical procedure to fix it, I'd had enough. "If you can't do better than this, I'm through!"
My God-rejecting moment didn't last long—only about ten minutes. However, my outburst got my attention! In rapid succession I thought of Genesis 3; Romans 8:28, Philippians 4:10-13 and Polycarp. These produced restoration and peace.
I began where I often begin when troubles arise for others and me. The Genesis 1-3 passage details the reasons we have problems, sickness, and death in our world: sin and disobedience. Jesus told us that "in the world you will have trouble. But take heart! I have overcome the world" (John 16:33). One day Jesus will retake the title deed to the earth—and all will be well. Until then, we are all exposed to the pains of suffering, sin and death. Just deal with it.
Next, a life-guiding principle came to mind: "And we know that in all things God works for the good of those who love him, who have been called according to his purpose. For those God foreknew he also predestined to be conformed to the likeness of his Son …" (Romans 8:28-29). As I imagined was God's poor care of my family and me, I had to admit that the Father was using this misery to mold all in my family to be more like Jesus.
Then, I thought of how I always handle difficult times. Just like Paul handled his: "I am not saying this because I am in need, for I have learned to be content whatever the circumstances. I know what it is to be in need, and I know what it is to have plenty. I have learned the secret of being content in any and every situation, whether well fed or hungry, whether living in plenty or in want. I can do everything through him who gives me strength" (Philippians 4:11-13). I've turned often to this passage. I turned to it once again. "OK, Lord," I said, "I open my heart for Jesus Christ to pour in the grace and power I need to thrive well in this situation." He did.
Finally my thoughts turned to Polycarp. I think of him often. Polycarp was a pupil of the apostle John who lived from 70 to 155 A.D. He bridged the gap between the Biblical apostles and the early church fathers. Polycarp wrote numerous letters to the church at Philippi encouraging the members to remain strong in their faith and to flee materialism. Polycarp served as the bishop of the church at Smyrna. He fought strenuously against early church heretics.
Polycarp's greatest contribution to Christianity may be his well documented martyrdom. During a time of intense persecution on the western coast of modern-day Turkey, Polycarp was arrested on the charge of being a Christian. Christianity was viewed as a politically dangerous cult whose rapid growth needed to be stopped.
Amidst an angry mob, the Roman proconsul took pity on the gentle old man and urged Polycarp to proclaim, "Caesar is Lord" and he would let him go free. Polycarp responded, "Eighty-six years I have served Christ, and He never did me any wrong. How can I blaspheme my King who saved me?" He was burned alive at the stake.
Have something to say about this article? Leave your comment via Facebook below!
advertise with us
Example: "Gen 1:1" "John 3" "Moses" "trust"
Advanced Search
Listen to Your Favorite Pastors