God and Dementia
Dr. Roger Barrier, Preach It, Teach It
Thursday, August 16, 2012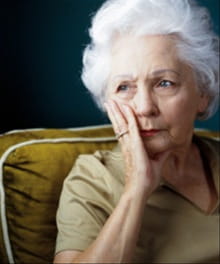 The purpose of confession, repentance and forgiveness for Christians is to restore the intimate relationship that we have with Christ which was impaired by our sin.
Debra, before I finish, I want to share a related question that may throw additional light on your question. Here is my friend's question and my response.
Dear Roger,
If you have never accepted Jesus and then something happens to you and you become a "vegetable" (i.e. brain damage), can you ever get a chance to accept Christ again?
Sincerely,
Questioner from Casas' "What's Next" Class
Dear Questioner,
According to Hebrews 9:27, the answer is a resounding, "No! There is no second chance. The writer to the Hebrews declared: ". . . man is destined to die once, and after that to face judgment …" I know of no other way to interpret this verse than at face value. It matters not whether we die without Christ in a car accident or lose our thinking capacities through a stroke. If we die without having received Christ as our personal Savior then we have no second chance. Our eternal destiny is forever fixed the moment we die. The time to receive Christ is while we are still alive, in our right minds and can make a choice. The writer to the Hebrews repeats again and again, "Today, if you hear his voice, do not harden your hearts."
In Romans chapter two Paul puts to rest the question of what happens to the religious person who never hears of Christ but who lives a moral and upright life to the level of the "Light" they have received from their inner conscience and the hand of God in the creation. Paul's response is, "Show me one!" There is not one. No one lives up to the light they have received.
In 1 Peter 3:18-20 Peter described a time between Jesus' crucifixion and resurrection when He went to Hades and gave all the Old Testament people who had rejected God's offer of salvation before the Flood a second chance to receive Christ: Peter wrote: "He was put to death in the body but made alive by the Spirit, through whom also he went and preached to the spirits in prison who disobeyed long ago when God waited patiently in the days of Noah while the ark was being built." Some feel that if these people got a second chance then God may give others second chances as well. The truth is that this passage is rather problematic and we should not build our theology on disputed passages.
In an argument from silence, some reason that God will, of course, give brain-damaged humans another chance because God is a God of love and it is only fair for these folks not to be penalized just because of an unfortunate incident leading to their brain damage.
Finally, your questions begs the question regarding the many babies who are born brain damaged and/or who never reach a level of consciousness where they could accept or reject Christ! Children with "Downs Syndrome." are some of the happiest people that l know. However, depending on the severity of their afflictions, many can never comprehend the theological dynamics of Christ's work on the cross or of our need for a personal reception of Him into our lives. I believe that in Matthew 19:14 Jesus assures us that we will one day see these folks in Heaven's glory: "Let the little children come to me, and do not hinder them, for the kingdom of heaven belongs to such as these."
When all is said and done, I think that the final answer must come from Hebrews 9:27 : We die once, then comes judgment. We must assume that people who die or become incapacitated without Christ will be judged according to whether or not they received Christ before they died.
Have something to say about this article? Leave your comment via Facebook below!
advertise with us
Example: "Gen 1:1" "John 3" "Moses" "trust"
Advanced Search
Listen to Your Favorite Pastors