How Do I Get My Love for Jesus Back?
Dr. Roger Barrier, Preach It, Teach It
Monday, March 12, 2012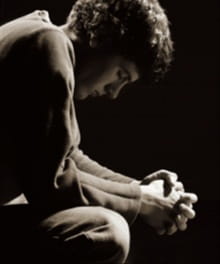 Surely in vain have I kept my heart pure; ...
When I tried to understand all this, it was oppressive to me till I entered the sanctuary of God;…
Whom have I in heaven but you? And earth has nothing I desire besides you. My flesh and my heart may fail, but God is the strength of my heart and my portion forever (Psalm 73:1-26).
He lost it. But after a while he found it. When push comes to shove, I've decided, like Asaph, that there's nowhere else I'd rather go than to Jesus.
At this very moment my oldest daughter Brie is in the hospital trying to get her lungs and breathing under control. I'm not angry with God this evening like I was that night in the hospital. We've worked through that. Gratefully, my heart is drawn to Jesus even while Brie is under the knife. I sense Him pouring in the power even as I feel agape love flowing from Him to me and back to Him.
Julie and I've had an adventurous life deeply in love with each other. Unfortunately, we haven't lived happily ever after. Why not? You know why not. We're all imperfect human beings, who grow up in imperfect environments around imperfect people. Why does our love for Jesus falter? Because imperfections (sin) can sabotage any and everything. Fortunately, agape love has a way of plowing through the slop and overcoming all.
The key to loving Jesus is to restore our first love when it falters. Jesus said to the Christians in Ephesus:
These are the words of him who holds the seven stars in his right hand and walks among the seven golden lampstands: I know your deeds, your hard work and your perseverance. I know that you cannot tolerate wicked men, that you have tested those who claim to be apostles but are not, and have found them false. You have persevered and have endured hardships for my name, and have not grown weary. Yet I hold this against you: You have forsaken your first love (Revelation 2:1-4).
Fortunately, in the next several verses Jesus tells us exactly how to rekindle our love affair with Him. We'll get to that in a moment. But first, we need to deal more specifically with your questions.
You asked: "Why am I not getting the same message and enthusiasm that I have for years?"
Let me give you several possible reasons. When was the last time you heard God speak? You might well discover that you've neglected Bible study and prayer. God speaks to us through the Bible and we speak to Him through prayer (John 5:39-40).
Perhaps, you've allowed too many distracting things into your life. These could include materialism, loving some person or thing more than you love Jesus. Quite possibly you are more computer oriented (shopping, news, gaming, surfing) than you are spiritually oriented (Matthew 6:24).
The Christian life is not designed for solo living. Are you in a small group of like-minded brothers and sisters where you can find strength and love and where you can love and encourage others? Christian maturity exists in the context of close fellowship with others (Acts 2:42).
Perhaps Jesus has failed to answer some prayer the way you wanted and you've looked else where for help. Down deep inside you are disappointed in Him (Job 7:11-8:1).
Maybe something you've done makes you feel that He's disappointed in you. You're too shamed to approach Him (John 21:17).
Of course, our sins can impair our fellowship with Christ. Nevertheless, our relationship with Him as His born-again child can never be broken. Sin may momentarily ruin our fellowship; but it can never threaten our relationship to Him (Psalm 51:1-4).
Then, you asked: "I know that it's an attack from Satan and not the church."
Of course, we both know that Satan's goal is to control our bodies and souls. Satan works on our minds and wills so that we choose to live according to his plans and desires. Our defense is twofold. Don't listen when he speaks. We take our thoughts captive (2 Corinthians 10:5). In addition we continually renew our minds with Biblical truth (Romans 12:1-2).
Have something to say about this article? Leave your comment via Facebook below!
advertise with us
Example: "Gen 1:1" "John 3" "Moses" "trust"
Advanced Search
Listen to Your Favorite Pastors