How to be a Spiritual Father (or Mother)
Dr. Roger Barrier, Preach It, Teach It
Wednesday, June 13, 2012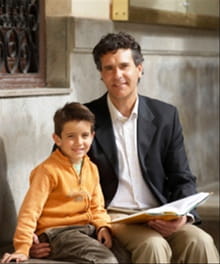 Jesus chose to give this same title of "shepherd" to Peter when He commissioned him to establish the church: "Feed my lambs... Tend my sheep... Feed my sheep" (John 21:15-17). The history of the Christian church began with Jesus saying to the leader who was to head up the work of disciplining the nations: "I am a shepherd, you be a shepherd, too." As we spiritually mature, we join with Jesus in shepherding those already under our care and in searching for the lost sheep who aren't.
Mothers and fathers feed children the Word of God. We teach them basic Christian doctrines. We teach morals and values and character development. We model how to pray, fast, worship, study the Bible, and confess sins. We help our spiritual children discover their spiritual gifts. We help them discern the will of God.
Spiritual mothers and fathers prepare their children for spiritual life. If the job is done right, spiritual parents soon have spiritual grandchildren!
Paul wrote: "We were gentle among you, like a mother caring for her little children. We loved you so much that we were delighted to share with you not only the gospel of God but our lives as well" (1 Thessalonians 2:7-8).
Not only do spiritual parents care for spiritual children, they open up and share their lives as well. You see, if all we do is share the Word, then we share only one-half of the message.
Spiritual Mothers and Fathers Guide Lost Sheep to Salvation. This is the Essence of Evangelism
By definition, mothers and fathers are those who have given birth to children. This is evangelism. Spiritual fathers and mothers lead people to Christ. In addition, some find Christ by reading the Bible. Some surrender after hearing the gospel on the radio or television—or from a friend who has recently found Christ. Sadly, too many are abandoned by those who lead them to Christ. These orphans need adoption. Who better to adopt than spiritual mothers and fathers.
Hinds Feet on High Places by Hannah Hurnard is an allegory of spiritual maturity about a young girl named Much Afraid, who lived in the Valley of Humiliation with her family, the Fearings. She wanted to travel to the spiritual High Places and to experience the true love of the Shepherd.
Unfortunately, she had crooked feet and a twisted mouth. Her chances of a successful journey were small. Besides, her cousins Craven Fear, Bitterness, Spiteful, Gloomy, and even her Aunt Dismal Forebodings had their hearts set on preventing her journey. However, the call of the Shepherd was strong. In a moment of supreme courage, aided by other Christ-followers, she ran to find the Shepherd.
Because of her twisted, crippled feet, the Shepherd provided two companions to help her over the rough spots. First, the Shepherd introduced her to Suffering. Much Afraid touched Suffering's hand. It was cold, and she pulled back, saying, "I don't want her."
"The other companion I have selected for you is Sorrow,"
Much Afraid reached out and touched the hand of Sorrow. It was also cold. She pulled back again and said, "I don't want her either!"
The Shepherd replied, "Suffering and Sorrow are the guides best able to lead you to the High Places." So, with their help, Much Afraid began her journey.
When she finally reached the High Places, her twisted mouth was straightened and her crippled feet were straightened. She leapt like a hind—a deer—through the spiritual High Places with Christ. Sorrow was transformed into Joy; Suffering was transformed into Peace. Much Afraid was transformed into Grace and Glory.
Have something to say about this article? Leave your comment via Facebook below!
advertise with us
Example: "Gen 1:1" "John 3" "Moses" "trust"
Advanced Search
Listen to Your Favorite Pastors