How to be a Spiritual Father (or Mother)
Dr. Roger Barrier, Preach It, Teach It
Wednesday, June 13, 2012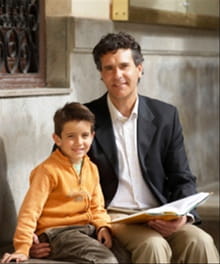 My heart now aches for people I never thought to ache for before. As I look into the confused, hopeless, hurting eyes of men, women, and children facing the fight of their lives, I begin to sense how Christ feels about their sufferings. He grieves for them just as He grieved over the blind man in John chapter nine. At times my heart breaks and I want to comfort the hurting people. On a deeper level, I want to comfort Christ as He grieves over those souls and broken lives that are filled with pain.
As we enter into what Paul called the "fellowship of His sufferings," we feel what Jesus feels. We hurt for others just like Jesus hurts for others!
Think about it, the people who know us best are those know us in our pains.
Consider the extrapolation: Spiritual mothers and fathers know "Him who is from the beginning" (twice repeated by John).
Who is better equipped to share in the fellowship of Christ's sufferings than those who know Him best?
"Entering into the fellowship of His sufferings" opens the door for true compassion.
Spiritual Fathers and Mothers Refuse to Quit No Matter How Difficult Following Christ May Become
Only once have I really gotten angry with God over a set of circumstances He allowed to happen that I thought about giving up on Him.
I have prayed since my junior year in college to be a spiritual man at any price. He has used a number of tools to answer my prayers. Here is a list of several: mistaken open-heart surgery; an ileostomy; back surgery; knee surgery (3); electrical heart failures; three ablations; cyclothymia; depression; anxiety disorder; a wife and two children with bi-polar disorder; the death of a child; and the rape of another. On the basis of Hebrews 4 I was able to see the hand of God in each of the above. I was looking from the resurrection side.
Then, less than a year ago, one of my daughters experienced back-to-back two of the greatest tragedies of life. I was so angry at God! I said to Him: "That is enough. When will it stop?" I said, "If this is the best You can do for my family, I'm through following You." I quit Christianity on the spot—that lasted for about three days.
I thought about the profession of Peter when Jesus thought that the Disciples would desert him like the rest of the crowds were doing. Jesus asked them, "You're going to go away, too, aren't you?" Peter replied, "Lord, to whom shall we go? You have the Words of Life."
I suppose that one of the best markers of spiritual mother and fatherhood is when we have no place else to go except to Jesus.
The Bible details several other characteristics of spiritual mothers and fathers that I don't have space to expound upon.
Let me just share a few of those:
Spiritual mothers and fathers manifest the Galatians 5:22-23.
Spiritual mothers and fathers are clothed with humility and grace. They remind others of what Jesus is like.
Spiritual mothers and fathers are more likely to live above difficult circumstances. They live the victorious Christian life.
Spiritual mothers and fathers long ago waded through the questions, struggles, doubts, self-reliance, self-centeredness, and self-condemnation that cause so many to stumble or turn back from the journey.
Mothers and fathers long to experience the resurrected life of Christ at any price.
The process of growth outlined in the Bible implies a long-term commitment. Nothing less than wholehearted devotion will suffice. The process is not for the faint of heart. However, along the way, we will increasingly experience the deepening love and resurrection power of Christ. Over time (like twenty-five years or so) we can't help but develop an irresistible urge to become like Christ at any price.
Have something to say about this article? Leave your comment via Facebook below!
advertise with us
Example: "Gen 1:1" "John 3" "Moses" "trust"
Advanced Search
Listen to Your Favorite Pastors