How to Cope with Sexual Abuse
Dr. Roger Barrier, Preach It, Teach It
Tuesday, January 15, 2013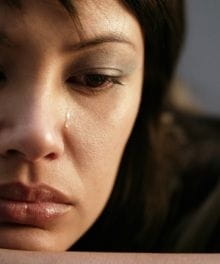 Editor's Note: Pastor Roger Barrier's "Ask Roger" column regularly appears at Preach It, Teach It. Every week at Crosswalk, Dr. Barrier puts nearly 40 years of experience in the pastorate to work answering questions of doctrine or practice for laypeople, or giving advice on church leadership issues. Email him your questions at .roger@preachitteachit.org.
The following are three letters Dr. Roger received on the topic of sexual abuse. His response is below.
Dear Roger,
From the time I was about 7 until I was a teenager my step dad … sexually abused me. … Even though I grew up abused I felt I was in a normal childhood. My mom was incredible, but I sometimes feel she should have known want was happening. My mom passed away several years ago, and left a note to my sister and I and asked us to be good to our dad because he loved us. How could he? I tried to forgive, I can't. I know the Bible says we need to forgive, but how?
Anonymous
***
Dear Roger,
During my freshman year of college I was raped. I have had this fear inside of me that it's going to happen again. Each day I feel scared and wonder why God would let that happen to me ... I have a strong faith in God but this all makes me wonder "why me?" I know that God loves me and is there for me, but this makes me wonder where He was during those moments
Thank you,
Unknown
***
Dear Roger,
Both my sister and I were sexually abused by a cousin who was a teenager at the time. Several years later something inside me told it was time to tell my parents. This was about two years ago; needless to say, our family has not been the same.
Growing up in church, attending prayer service, Sunday school, serving in different ministries, it was embedded in my mind we must forgive our enemies … I can only recall this abuse happening once to me but I know it happened to my sister several times. My anger isn't toward my cousin, it is towards my aunt because she knew about the abuse. She caught him in a bedroom with my sister, and her answer was to spank him and my sister. This has torn our family apart. We hardly go to church anymore. As for me, I have forgiveness towards my enemy. I wish I could say the same for my sister. I want to help her find peace, I want her to find happiness and success in life. I know God works in mysterious ways and he gives us trial because he knows we're capable of overcoming them. I know coming across this site is more than a coincidence. How do I help my sister?
Name Withheld
Dear Anonymous, Unknown and Name Withheld,
Several year ago one of our counselors and I surveyed a women's Bible class of over one hundred. We were all shocked by the results. Forty-two percent of the women in the room reported some form of sexual abuse before the age of sixteen.
Unfortunately, your experiences are not unusual. Many authorities surmise that 1 in 10 families are involved in incestuous abuse. Researchers estimate that for every case of incest that is reported, at least 25 cases remain hidden. 9% of American men were sexually abused as children. This trend is increasing. 16% of American boys will be sexually misused before high school.
Who can begin to count the buckets of tears shed by children (and adults) who were abused by those who should have loved them the most? Only God knows how many are mired today in emotional distress because of the traumas of their childhoods.
Have something to say about this article? Leave your comment via Facebook below!
advertise with us
Example: "Gen 1:1" "John 3" "Moses" "trust"
Advanced Search
Listen to Your Favorite Pastors