Is God a Democrat or Republican?
Dr. Roger Barrier, Preach It, Teach It
Tuesday, October 30, 2012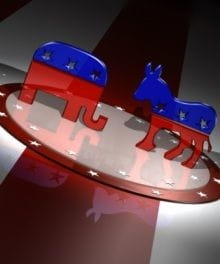 One recent study revealed that 78 percent of Americans view the evangelical Christian church as the most judgmental segment in America.
Instead of drawing people to Christ through love and acceptance and then allowing Jesus to transform their behaviors, we're attempting to force Christian behaviors through the legal system. Unfortunately, forcing behavior never changes hearts—it just builds anger and resentment.
We have utilized the Old Testament Prophetical Model of yelling judgment at the people instead of Jesus's New Testament Model of loving the people.
Jesus never preached judgmental sermons to the down and out. Jesus spoke lovingly and compassionately with the "sinners and tax collectors," and they loved Him for it--and many flowed into the Kingdom of love with changed hearts and new behaviors.
Fourth, Should Pastors talk about politics from the pulpit?
Dear Roger, how much should pastors talk about politics from the pulpit?
Sincerely, Janice
Dear Janice,
My opinion is that talking about politics from the pulpit must be carefully done. Whenever the pastor takes up one side of a political issue to the exclusion of others he or she will alienate the others in the church who hold a different opinion, and the purpose of a church is unity not division.
Some issues, like the sanctity of life, seem so obvious that we wonder how any Christian can argue in favor of abortion. Yet, they do. Bill Clinton got his opinions about a child being a fetus until it drew his or her first breath from his pastor at the First Baptist Church in Little Rock Arkansas, Dr. W.O. Vaught. Things may not be as simple as they appear. The pastor must handle these issues carefully. After all, a pastor is not a politician. Nevertheless, he or she is one commissioned to declare the Word of God with integrity and truth. This responsibility is primary.
Well, Janice, I hope you find my answers helpful.
Love, Roger
Dr. Roger Barrier recently retired as senior teaching pastor from Casas Church in Tucson, Arizona. In addition to being an author and sought-after conference speaker, Roger has mentored or taught thousands of pastors, missionaries, and Christian leaders worldwide. Casas Church, where Roger served throughout his thirty-five-year career, is a megachurch known for a well-integrated, multi-generational ministry. The value of including new generations is deeply ingrained throughout Casas to help the church move strongly right through the twenty-first century and beyond. Dr. Barrier holds degrees from Baylor University, Southwestern Baptist Theological Seminary, and Golden Gate Seminary in Greek, religion, theology, and pastoral care. His popular book, Listening to the Voice of God, published by Bethany House, is in its second printing and is available in Thai and Portuguese. His latest work is, Got Guts? Get Godly! Pray the Prayer God Guarantees to Answer, from Xulon Press. Roger can be found blogging at Preach It, Teach It, the pastoral teaching site founded with his wife, Dr. Julie Barrier.
Have something to say about this article? Leave your comment via Facebook below!
advertise with us
Example: "Gen 1:1" "John 3" "Moses" "trust"
Advanced Search
Listen to Your Favorite Pastors