Lotto and God: Can a Christian Buy a Lottery Ticket?
Dr. Roger Barrier, Preach It, Teach It
Thursday, August 23, 2012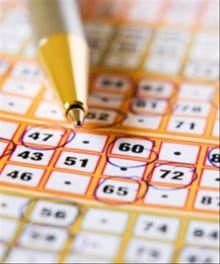 By the way, always beware of Christians who try to make their personal convictions into biblical truth. They harm Christians.
My personal conviction is to not gamble. I used to pitch nickels and shoot marbles for keeps when I was a kid. I once played poker for pennies with the older boys down the street. Once I put a quarter in a slot machine in Las Vegas. I once bought a lottery ticket. I felt guilty for both last two because I was now old enough to know that I was breaking my conscience.
My personal conviction is that I do not buy lottery tickets. I've thought this through and have a number of reasons for refusing to buy one. Buying a lottery ticket may be all right for you; but it is not right for me.
I don't waste money on the lottery because of the Biblical teachings about stewardship and management (1 Corinthians 6:19). Not a single dollar that comes into our hands is ours. It all belongs to God. We are to manage it well.
I perceive that the Lord Jesus is not particularly excited to watch us throw money away. We have such slim odds of winning that we might as well drive by the "7-11" and throw money out the car window.
Here are the odds of winning some recent lotteries:
The Pennsylvania Match 6: 1 in 4,661,272.3
The New Jersey Pick 6: 1 in 13,983,816
The Ohio Mega Millions: 1 in 175,711,536
You can purchase a ticket if you want to. After all, Paul wrote: "Everything is permissible—but not everything is beneficial. Everything is permissible—but not everything is constructive" (1 Corinthians 10:23).
God says that there are better things to do with our money than throw it away. Excess money should be saved for future needs or given to the Lord's work, not gambled away (1 Corinthians 4:2).
Several other Biblical principles come into play regarding my conviction not to play the lottery.
The Bible clearly states that the lottery is a "get rich" scheme and "get rich" schemes are to be avoided at all costs. Solomon wrote from experience: "A faithful man will be richly blessed, but one eager to get rich will not go unpunished" (Proverbs 28:20). (See also Proverbs 13:11; Proverbs 23:5; and Ecclesiastes 5:10.) The principle is that if we spend the same amount of time planning and investing as we do trying to get rich quick we will come out way ahead in the future.
Get rich schemes often tempt us away from trusting God as the real source of our financial security. They can lead us to trust more in our money than in our God. They can mess with our minds regarding the real dangers of materialism (Matthew 6:24; 1 Timothy 6:10; and Hebrews 13:5).
People often ask, "Isn't buying stocks like playing a long-term lottery?" No, investing in the stock market is not gambling. The difference is that in the stock market we actually own a portion of the companies that we invest in. We are buying something of value in the stock market.
Others ask, "Is it OK to play poker?"
Playing poker with friends is seldom a sin. We receive real value when we play poker with friends—the value of a good time and enhanced friendship. In one sense this can be the same as going to a movie with our friends. We buy a ticket and receive value in the form of enjoying the movie and in experiencing it together. We go to a good restaurant and pay more money for an expensive meal than we should. We receive value in the form of good food and a pleasant evening with our friends.
Have something to say about this article? Leave your comment via Facebook below!
advertise with us
Example: "Gen 1:1" "John 3" "Moses" "trust"
Advanced Search
Listen to Your Favorite Pastors