Missing Mom: Death and Afterwards
Dr. Roger Barrier, Preach It, Teach It
Thursday, October 11, 2012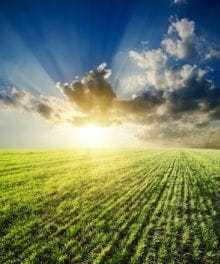 My mother and father purchased cemetery plots side by side. However, my mother was a worrier and got to thinking about worms crawling into her casket so she traded their plots for two in the above ground mausoleum. Dad died first and mom said to me, "What if a tornado hits the mausoleum. Maybe we should change back?"
"Mom," I said, "Your spirit will be with Christ and He can take care of your body whatever state it's in when the time comes."
So, now their bodies rest side-by side, awaiting the trumpet to sound announcing the Rapture, while in Heaven their real selves are enjoying the presence of God Himself.
More important, death ushers us into the presence of the one our heart cries out for—the one, true God, and this is our greatest consolation.
There is life after death. Let me illustrate with a most encouraging story from the here and now.
Paul Yongi Cho is pastor of largest church in the world. I went to Seoul, Korea in the early 1980s and watched 18,000 people crowd onto 5 acres again and again to worship every hour and a half beginning at 6:30 am and continuing all day long.
Cho shared the following story at the pastor's conference. He also included it in one of his books about his life.
In 1978 his primary school aged son, Samuel, and several of his friends stopped by a fry vendor on the way home from school. In Korea fried silkworm is a fine and delicious treat. But this afternoon, the farmer who had brought the catch into town had put them into an empty bag which had contained a strong insecticide.
Cho was speaking to a men's meeting downtown when his wife's emergency telephone call had come. Cho raced home to find his wife frantic and helpless. Samuel was lying asleep on his father's bed, and by now he could not be awakened. Before dropping into such a deep sleep he had said to his mother, "Tell Daddy to pray for me." Then rolling his head on his pillow he added, "But I'm pretty sure I'm going to heaven tonight."
Cho dialed the neighborhood doctor. "Well, it's no use, Pastor. Eight boys have died tonight already. There is not anything we can do for Samuel now. If he is in that sleep like you say, then it's too late; he will go in peace."
Go in peace? Samuel was his son who had loved him and patted him with his baby hands. "No, Lord, not Samuel! Not yet!"
Then crawling to the middle of the bed Cho began to pray. "Father, I will not let my boy go!"
For two hours, Cho prayed for Samuel's life and confessed his sins.
When Cho opened his eyes again, Samuel appeared to have no life left in him. No one could rouse him or communicate with him in any way. He went on praising God past midnight, still sitting cross-legged on the bed.
After a while he got off the bed, stood facing the boy and in a thundering voice commanded, "Samuel!" He clapped his hands together in a loud, jolting manner. "Samuel! In the name of Jesus Christ of Nazareth, rise up and walk!"
The boy sprang to his feet!
Cho bolted backwards in fear.
Samuel crumpled and fell halfway across the bed, vomiting upon the sheets.
His mother bent to bathe his face, but she was almost afraid to touch him too soon.
Samuel spoke and gestured with his hand. "Say hello to Jesus, Papa." He said it again. "Say hello to Jesus. He's right there." The boy pointed.
Going along with his son's strange talking, Cho bowed politely toward the space where the boy had indicated and said softly, "Hello, Jesus."
"Didn't you see us coming down the hallway? Didn't you see us, Papa? Jesus carried me in His arms like this." Both voice and gestures were weak but the parents could make out his words perfectly.
"Jesus was carrying me next to His chest to a beautiful place." He stretched out the word along with his hand.
Recently on Pastors / Leadership
Have something to say about this article? Leave your comment via Facebook below!
advertise with us
Example: "Gen 1:1" "John 3" "Moses" "trust"
Advanced Search
Listen to Your Favorite Pastors