Pray for the Peace of Jerusalem?
Dr. Roger Barrier, Preach It, Teach It
Wednesday, September 26, 2012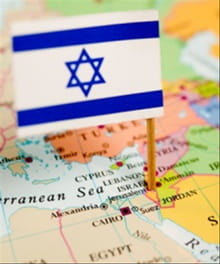 Editor's Note: Pastor Roger Barrier's "Ask Roger" column regularly appears at Preach It, Teach It. Every week at Crosswalk, Dr. Barrier puts nearly 40 years of experience in the pastorate to work answering questions of doctrine or practice for laypeople, or giving advice on church leadership issues. Email him your questions at roger@preachitteachit.org.
Dear Roger,
With everything that is taking place in the Mid-East, it is easy to see Bible prophecy playing out right before our eyes. The Bible is clear about what will happen to Jerusalem before God intervenes, and it isn't pretty. Yet, we are continually encouraged to pray for the peace of Jerusalem. Are our prayers just an exercise in futility or can they actually affect the outcome in that region?
Gary
Dear Gary,
Things don't look very good for Israel, do they? Things don't look very good in the Middle East for the United States either!
The US embassies throughout the Middle East are being victimized by coordinated attacks. The US Ambassador to Libya was murdered. Rocks are thrown at the US Consulate in India. Mobs storm the US Embassy in Tunis. Protestors gather at the US Embassy in the Sudan. Armed men set fire to the KFC in Tripoli. The US is on alert for attacks in Libya. As I write, the US Embassy are under attack in Khartoum, Yemen, Somalia, just to mention several more.
Think about it, I haven't even mentioned the situations in Iraq, Turkey, Armenia, Afghanistan, Pakistan and Iran—and Israel.
The reason the attacks on the US in the Middle East are important is because the only nation willing to stand by Israel militarily and politically is the United States. Can you imagine that even the US is wavering in its support? Who would have ever thought this could happen? The United States has always politically controlled what Israel can and can't do on the world scene. Israel may soon be standing all alone.
Israel is not peaceful today. Threats arrive from numerous quarters. Mahmoud Ahmadinejad, the president of Iran, has openly declared that as soon as it is practical, Iran will launch a nuclear attack against Israel. Recently, president Obama made an ambiguously irritating statement of US policy toward Israel by refusing even to meet with Israeli Prime Minister Netanyahu on his recent visit to Washington.
For months Israel has threatened to destroy Iran's nuclear processing plants knowing that in many ways they are completely alone in the world. However, confusion reigns as a majority of Israelis are against military invasion.
In the midst of all of this confusion, the Bible speaks. We are encouraged to pray for the peace of Jerusalem. The prayer for the peace for Jerusalem, found in Psalms 122:6-9, is a sweet prayer of blessing and peace for the beloved city.
In historical context, the Psalm is written after many enslaved Jews have returned home to Jerusalem after 70 years of captivity in Babylon. Nehemiah has rebuilt the wall to bring some sort of security to their ancestral home. Ezra and others soon commenced rebuilding the Temple. All is peaceful and well in the city of Jerusalem and the people want it to stay that way. So, they are encouraged to.pray for peace to continue unabated.
Pray for the peace of Jerusalem:
May those who love you be secure.
May there be peace within your walls
and security within your citadels."
For the sake of my brothers and friends,
I will say, "Peace be within you."
For the sake of the house of the LORD our God,
I will seek your prosperity (Psalm 122:6-9).
Have something to say about this article? Leave your comment via Facebook below!
advertise with us
Example: "Gen 1:1" "John 3" "Moses" "trust"
Advanced Search
Listen to Your Favorite Pastors