What Not to Wear: How to Teach Modesty
Dr. Roger Barrier, Preach It, Teach It
Thursday, August 30, 2012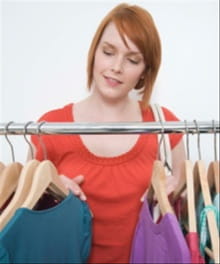 Editor's Note: Pastor Roger Barrier's "Ask Roger" column regularly appears at Preach It, Teach It. Every week at Crosswalk, Dr. Barrier puts nearly 40 years of experience in the pastorate to work answering questions of doctrine or practice for laypeople, or giving advice on church leadership issues. Email him your questions at roger@preachitteachit.org.
Dear Dr. Barrier,
For several weeks, I have been wrestling with sending you an email. Having been in church ministry for 35 years (senior pastorate), I know that there are kooks out there, but I assure you... I am not a kook. Neither am I a legalist, writing tickets and leaving them on the windshields of souls.
. . . But I have an issue...
I am now popping the top on my can-of-worms...whether it be Sunday morning worship service, ladies bible study, ladies prayer service, deaconess meetings, or the female leadership from the stage to the lawn, they look as though they walked off the cover of the Cosmopolitan magazine . . . Last Sunday our pastor's wife, (I am not down on pastors' wives) was wearing a top so low cut, she could have breast fed a child . . . the Capri pants that matched the top had entrenched themselves in the folds of her skin, requiring a quality crowbar for removal.
While she and the remainder of the Praise and Worship Team left the stage, one of the ladies who heads the Biblical Counseling Team stepped on the platform to make a special announcement, her little black dress and laced-up-to-the-knee, black platform shoes, helped to secure male volunteers for the "clean-up committee".
The seventeen year old offspring of this same pastoral family was sitting on the front row in a see-through mini skirt and see-through top that matched (the bright pink thong was an added touch). While her father was delivering his sermon, she sat in a chair next to her boyfriend and . . . propped her legs over the arm rest of her chair with her feet resting on her boyfriends arm.
After the 8:00 am service that I attend, I headed to my prayer group, where in the Hallway, I was accosted by the Education Director for Children's Ministry, who had to point out to me her new "tramp stamp" on her lower back, with her low rider waist shorts and halter top, she was "stylin". . .
Have we as women forgotten that God calls us to holy living? So why are we allowing Hollywood, New York, and Italy to set our standards? Are we the Temple of a "Goddess" or the temple of the most Holy God?
1 Corinthians 6:19-20 says that we are the temple of God.
1 Peter 2:9 says that we are a royal priesthood.
Romans 12:1-2 says that we are living sacrifices to God.
I am aware that I cannot legislate holy living, what people wear, or Godly attitudes. These traits should come out of a relationship with the true and living God. But I am concerned. Just because we live in a modern society, does not mean that we can cast off all restraint. We who call ourselves pastors, teachers, and speakers of God's word are leading God's flock, leaving lasting impressions. At times, we look like, talk like, dress like and sound like the world? Should there not be a difference? So what has happened with Paul's statement; "Follow me, as I follow Christ?"
Have something to say about this article? Leave your comment via Facebook below!
advertise with us
Example: "Gen 1:1" "John 3" "Moses" "trust"
Advanced Search
Listen to Your Favorite Pastors