When to Fire Your Pastor
Dr. Roger Barrier, Preach It, Teach It
Wednesday, November 13, 2013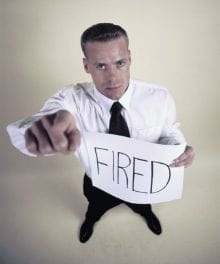 As a pastor, these passages frighten me. God was accusing the religious leaders of telling the people that all was well when it was not well (saying "peace, peace" when there is no peace). I was afraid that I might minimize the claims and cost of following Christ. I was afraid that I would succumb to watering down the gospel by making it easy to receive while neglecting to teach people that "when Jesus Christ calls a man He bids him come and die" (Dietrich Bonheoffer). Following Christ means full surrender at any price. It is so easy to preach the first part and neglect the second.
I believe that in an effort to reach people at any cost in today's Christian culture that we have forgotten (if we ever knew) that the gospel is not properly communicated until people have enough information to reject it. That is how Jesus did it. Remember the Rich Young Ruler (Matthew 19:20-22).
I HAVE SEEN IT DONE RIGHT.
When I was six our church had a big "Good Bye" party for the pastor and his family. I remember the light-hearted atmosphere and the food and the singing and talent show and funny skits of entertainment.
It was common knowledge that the church had decided to ask him to leave. He was fired and I was confused. How could they have a party, pretending everything was fine, when they were terminating the man?
When I grew older I found out the rest of the story. He was a Southern Baptist in name and a Methodist at heart. His preaching and doctrine reflected his true allegiance.
A group of church leaders sat down to discuss their concerns with the pastor. He was surprised at their observations. The leaders were in no hurry. Over time he concluded that he was more Methodist than Baptist. No one got angry or demanded his resignation. They talked it over for several months and worked out a plan of transition. The church was involved early in the process and the leaders told him that they would keep him as pastor until he could integrate himself into the Methodist system.
In less than three months he was pastoring a Methodist church and they had the party. No one got hurt. The matter was handled in a Christian way and peace reigned in the congregation.
Here is what I learned that was so right.
Spiritual men and women handled the issue (Galatians 6:1-2).
The issues were dealt with up front and in a loving way. No one was manipulating anyone.
The pastor knew exactly what the problem was. Not like poor Brother Baker who was never told exactly what he'd done wrong.
The church doctrine was upheld. This is not to say that Methodist doctrine is wrong—it was just different from Baptist doctrine.
The pastor was given plenty of time to conform his preaching and teaching to basic Baptist beliefs, but they all finally agreed that changing his basic beliefs was not possible for him.
Christian fellowship was upheld. Everyone enjoyed the party.
FIRING THE PASTOR IS SELDOM SMOOTH BECAUSE A PASTOR WHO NEEDS TO BE FIRED AND CAN'T SEE IT USUALLY STRUGGLES WITH DIBILITATING DISFUNCTIONS.
I've fired sixteen paid staff (that I remember) in forty years of ministry. As far as I am concerned, that is about sixteen too many. But it had to be done.
Here is what I've learned about firing a pastor:
1. Give them time to improve their performance to well defined, acceptable levels. If they won't or can't succeed, it is time to let them go.
2. No one ever feels that they deserve to be fired.
3. There is no correct to way to let someone go.
4. However you do it they are never going to like you again.
5. Have them turn in their keys, clean out and vacate their office immediately. Not everyone needs to be dealt with like this.
Have something to say about this article? Leave your comment via Facebook below!
advertise with us
Example: "Gen 1:1" "John 3" "Moses" "trust"
Advanced Search
Listen to Your Favorite Pastors