Why Should I Fast?
Dr. Roger Barrier, Preach It, Teach It
Wednesday, March 06, 2013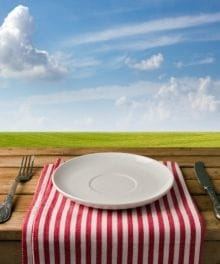 Editor's Note: Pastor Roger Barrier's "Ask Roger" column regularly appears at Preach It, Teach It. Every week at Crosswalk, Dr. Barrier puts nearly 40 years of experience in the pastorate to work answering questions of doctrine or practice for laypeople, or giving advice on church leadership issues. Email him your questions at roger@preachitteachit.org.
Dear Roger,
Recently I was having my morning devotionals when I came across Matthew 6:16-18 and noticed that Jesus twice said to His disciples, "When you fast." He didn't say, "If you fast." He just assumed that they would fast. I have attended church since I was a child never once heard a sermon on fasting. So, I went to BibleGateway.com and looked up the word, "fast." Just three chapters later John the Baptist's disciples asked Jesus why His disciples weren't fasting and Jesus answered in Matthew 9:14-16: "How can the guests of the bridegroom mourn while he is with them? The time will come when the bridegroom will be taken from them; then they will fast."
My question is: Why isn't fasting emphasized in the church today? What does not eating have to do with spirituality? Why should I fast? What does a fast look like?
Sincerely, Lacy
Dear Lacy,
Nowhere in the New Testament are we commanded to fast. On the other hand, Jesus assumes that there will be times when His followers will practice fasting.
One of my pastor friends, Jeff Jones, gave the best definition for fasting that I have ever heard: "Fasting is a voluntary choice not to eat for a period of time in order to focus one's attention on prayer during a significant moment in life."
I like to define fasting like this: "Fasting is to abstain from food and/or drink for spiritual purposes."
The word, "fast", literally means, "to go without food."
Fasting is not so much abstaining from food as it is choosing to feast on spiritual things.
I believe strongly in fasting as a God given tool for further enhancing our spiritual lives as well as to get some things done on earth that would never gotten done apart from fasting.
In the Bible fasting and prayer often go together.
Let me illustrate from one of my fasting experiences:
Pain etched Sally's face. Nerves damaged by radiation treatments left her in constant agony. "The doctors say they can do nothing more," she said. "God is my only hope. I noticed a passage on healing in James 5 yesterday that might help."
As she opened her Bible I saw two verses underlined in red: "Is anyone of you sick? He should call the elders of the church to pray over him and anoint him with oil in the name of the Lord. And the prayer of faith will make the sick person well; the Lord will raise him up."
"Would you please gather the elders and pray for me?" she asked. Unfortunately, it was not that simple.
I grew up in a denomination that ill-prepared me for her request. The unwritten, but strongly implied rule of our denominational culture stated that pastors who ministered in the area of healing were "charismatic" at best, and deluded at worst. Also, our churches were organized around deacons; we had no elders. Furthermore, I was not sure what a "prayer of faith" was. Finally, I had never anointed anyone with oil and was not certain how to do it. Obviously, we never discussed James 5:14-15 in seminary.
Have something to say about this article? Leave your comment via Facebook below!
advertise with us
Example: "Gen 1:1" "John 3" "Moses" "trust"
Advanced Search
Listen to Your Favorite Pastors