Delegation: A Two-Sided Coin of Great Value
Dr. Danny M. Sweatt, Today's Christian Preacher Magazine
Friday, June 10, 2005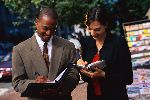 One man can care for only so many people. When that number is reached, a church either ceases to grow or the wise pastor involves others in pastoral care as well as in spiritual ministry. As a church moves through various levels of growth – 400, 600, 1,000 – reorganization is not only wise, it is necessary.
There is nothing that promotes spiritual growth and health like involvement in God's work. Moving outside one's comfort zone to do the Lord's work encourages prayer, faith, and diligence. It is in that place that we learn of our own weakness and experience God's strength. I Peter 5:5 says, "God resisteth the proud, and giveth grace to the humble." Spiritual service brings into focus our absolute need of Him so that into that need He pours His grace.
The more people that are using their gifts as described in I Corinthians 12, the more variety there will be in our ministry. God, in His wisdom, has certainly provided the church with diversity. Many a new ministry has sprung from the unique gifts of the unique people God has placed in His church. Bland indeed is the ministry limited to the gifts of the pastor alone.
Church giving is increased as church members are involved in ministry. Matthew 6 teaches, "Where your treasure is, there will your heart be also." It is not hard to invest your money in a ministry in which you have already invested your heart.
Assimilation of new members, as well as the retention of visitors, is greatly facilitated when more people in the congregation are reaching out. People want to be where they are welcomed. A congregation trained and organized to be soul-conscious will multiply the outreach potential of any church.
How Do I Delegate?
The first step is a careful, honest evaluation of areas of ministry not functioning as they should. These areas may be described as ministry logjams. This evaluation is best done with the help of spiritually minded church leaders. Once these deficient areas are identified, helpers within the body with appropriate skills should be found. The search should begin on our knees. A mistake here will have a lasting impact on the church.
Future leaders must be selected using biblical criteria. Only people of proven reputation and consistent testimony should be considered. People that have proven to be faithful in past assignments should now be considered for greater responsibility. These future leaders should be teachable, flexible, and have a submissive heart. A stubborn, self-willed, carnal person, no matter how gifted, should never be given a platform from which to influence others.
Delegation is a skill every pastor should develop. Division of responsibility will make the pastor more productive and the church better balanced. While focusing more on the things that only he can do, the pastor becomes a better pastor. When members assist in ministry, the church becomes a better church. Pastor and people working together in clearly defined ways allows God's work to be done more effectively for the glory of God.
Dr. Sweatt is pastor of Berean Baptist Church in Lilburn, Georgia.

Today's Christian Preacher is the magazine for those involved in ministry and those training for ministry service who live in the United States. TCP won't help you preach a better sermon or build a larger ministry. It will help you in your personal life. For more information, call 1-800-588-7744.

© Right Ideas, Inc., 2005, www.rightideas.us

Recently on Pastors / Leadership
Have something to say about this article? Leave your comment via Facebook below!
advertise with us
Example: "Gen 1:1" "John 3" "Moses" "trust"
Advanced Search
Listen to Your Favorite Pastors