Denominational Demise
Michael Craven, Center for Christ & Culture
Wednesday, July 05, 2006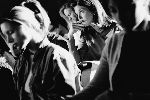 Many were so detached from the traditions of their faith, says the report, that they're virtually following a different creed in which an undemanding God exists mostly to solve problems and make people feel good. Truth in any absolute, theological sense, takes a back seat. This ambiguity and ignorance in terms of their actual beliefs was so overwhelming that the researchers were led to coin the phrase, "therapeutic, moralistic deism" to describe the actual belief and practices of most professing teens.
While the study did not attempt to identify the causes of this condition researchers did suggest that the problem was largely attributable to ineffective youth programs and "the relative religious laxity of their parents."
In addition, The Barna Group reports findings that support Smith's. George Barna noted, "less than one out of every ten churched teenagers has a biblical worldview. In other words, the result of their involvement at a church is that they can recite some religious facts, they made some friends, and they had fun. That's wonderful, but we also find that most of them have neither accepted Christ as their savior nor altered the basis on which they make their moral and ethical decisions in life."
So for those denominations that today think they are safe from those "liberal elements" that are presently tearing apart these mainline denominations think again. You may actually be growing the seeds of your denomination's own destruction right down the hall. What kind of theological influence do you suppose a generation with no theological and doctrinal knowledge will have?
If we hope to preserve orthodoxy and strengthen the Church then churches must again take seriously the Bible's admonitions to train our children. This means that we stop entertaining them, stop patronizing them by treating them like they're incapable of thinking, take their questions seriously and offer them solid arguments in defense of biblical truths that will stand up in the intellectual marketplace. Otherwise we will likely produce a generation of theological compromisers, unprecedented in terms of scale, that encompasses almost every denomination of the American Church.
---
View other recent entries on Michael's blog.
---
S. Michael Craven is the Founding Director of the Center for Christ & Culture, a ministry of the National Coalition for the Protection of Children & Families. The Center for Christ & Culture is dedicated to renewal within the Church and works to equip Christians with an intelligent and thoroughly Christian approach to matters of culture in order to recapture and demonstrate the relevance of Christianity to all of life. For more information on the Center for Christ & Culture, additional resources and other works by S. Michael Craven visit: www.battlefortruth.org. Michael lives in the Dallas area with his wife Carol and their three children.
Copyright S. Michael Craven 2006
Recently on Pastors / Leadership
Have something to say about this article? Leave your comment via Facebook below!
advertise with us
Example: "Gen 1:1" "John 3" "Moses" "trust"
Advanced Search
Listen to Your Favorite Pastors