Does a 'Prodigal' Disqualify You from Spiritual Leadership?
Jim Binney, Today's Christian Preacher Magazine
Friday, September 02, 2005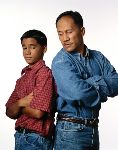 "If a preacher has a household of children who are rotten, rebellious, or lewd and dissolute, he is unqualified to preach. I'm not sure, however, if one child goes astray and the others turn out well that a preacher is disqualified.  …I think that we're unscripturally hard on Christian fathers in ministry when one child goes bad. We don't take into account the perfidy of the devil. It is possible for a child to go bad in spite of the best parenting and the best examples from father and mother. Each child is a free moral agent. Adam and Eve were God's children, and they exercised their free moral choice against God and for sin in a perfect moral environment."
Who is qualified to say when a pastor is actually "unfit" because of his children's misbehavior? Obviously that decision must rest upon the conscience of the pastor and the decision of the church body. It should be bathed in earnest prayer, diligent study of the Word, and godly counsel. As in much of the Christian life, the issues are not black and white. A "letter of the law" approach will not work here. There are too many considerations, too many variables. Each situation must be weighed in the balances rather than attempting to establish a uniform code of church justice.  As Bell says,
"I think each circumstance should be judged on the effectiveness and diligence with which the pastor deals with his family . . . in each circumstance, everything must be judged upon its own merit."
Conclusion
Who is better qualified to do this than the local autonomous body of believers? The ultimate responsibility of sorting through all the issues in making a decision regarding the pastor's fitness rests upon the local church.
The burden of proof is upon the person who is challenging a pastor's fitness to lead based on his children's misbehavior. Dare anyone take a casual approach to this? Cavalier conclusions and hasty judgments must be brought to the Word of God for final disposition.

Any decision, generalized or specific, to disqualify a leader based on his child's waywardness demands that the accuser be 1) fully persuaded  2) in his own mind. Are you?

Today's Christian Preacher is the magazine for those involved in ministry and those training for ministry service who live in the United States. TCP won't help you preach a better sermon or build a larger ministry. It will help you in your personal life. For more information, call 1-800-588-7744.

© Right Ideas, Inc., 2005,  www.rightideas.us
Recently on Pastors / Leadership
Have something to say about this article? Leave your comment via Facebook below!
advertise with us
Example: "Gen 1:1" "John 3" "Moses" "trust"
Advanced Search
Listen to Your Favorite Pastors