Finding a Real God in a Chasm of Unreality
Caroline Leal, WORLD News Service
Tuesday, May 21, 2013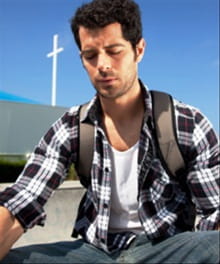 Editor's note: Content warning for parents. This article contains some graphically violent descriptions.
David Weiss is watching himself commit suicide again. He lies rigid on the ground, his head on a train track, feeling vibrations against his neck as a locomotive barrels closer. He hears the hum of the diesel engine and the moan of the train's horn. When the mass of steel hurtles past, there's no scream, only a quiet snap—and his head disappears. His torso goes limp. He smells blood.
Then the hallucination ends.
Though only lasting a second or two each time, such graphically detailed hallucinations are normal for Weiss, who was diagnosed with schizophrenia and bipolar disorder in 2005. A committed Christian, Weiss experienced a faith crisis following his diagnosis and has since rediscovered his Christianity amid the ravages of mental illness. His hallucinations occur several times a day, increasing in frequency and intensity in times of depression or stress. Most are violent episodes in which every sight, sound, and smell is real.
"I see myself committing suicide while looking on from a third person perspective. … Sometimes when my hallucinations are really bad, I am paralyzed, experiencing my suicide in a non-stop barrage of creative death," Weiss said. "That is when I go to the hospital."
A 27-year-old from Tucson, Ariz., Weiss grew up in a strong Christian family and accepted Christ after eighth grade. He became a youth group leader and started evangelizing at his public high school. A straight-A student with big dreams, Weiss received a full-ride scholarship to the University of Arizona. But during his first semester, his dreams turned into nightmares.
Weiss remembers lying on his bed at home during Thanksgiving break, too agitated to leave his room. He saw razor blades dancing across the walls and ceiling. "I was afraid they were going to cut me. So I hid in my bed and shook," Weiss recalled. "I wondered why God would let this happen to me." When his symptoms continued, he found himself in a mental hospital, facing an uncertain future while his scholarship and aspirations slipped away.
The medical staff quickly released Weiss from the hospital after he said "the right words"—but his schizophrenia persisted. He began doubting God's existence, sinking into depression as spiritual passion gave way to anger and grief.
"As the years dragged on, I stopped crying," Weiss said. "I stopped feeling. I just did what I had to do. I learned to dream."
Weiss's detailed fantasies soon became more real than the outside world. He once dreamed for two weeks about living aboard a space station where he braved meteor showers, traveled faster than the speed of light, and defeated a Russian ultra-nationalist while simultaneously wooing a pretty French doctor. During the delusion, he neither talked nor bathed, and barely slept.
Meanwhile, Weiss's parents tended to his needs and clung to faith. He often awoke to find his mother praying Scripture and singing praise songs over him. "Our worst nightmare was coming true," said Weiss' mother, Trudy. "Mental illness tentacles reached back generations on both sides of our family. It seemed he felt better for a day or two, and then the decline would start."
When other treatments failed to work, Weiss underwent electroconvulsive therapy (ECT) sessions, treatment that induces mild seizures to relieve depression or schizophrenic symptoms. But after a record 24 ECT sessions (eight to 12 is standard) and $300,000 in medical expenses, Weiss's doctors classified him as resistant to both medication and ECT. He would have to learn to adapt to the illness, the "illusion of normalcy" his new goal.
Recently on Pastors / Leadership
Have something to say about this article? Leave your comment via Facebook below!
advertise with us
Example: "Gen 1:1" "John 3" "Moses" "trust"
Advanced Search
Listen to Your Favorite Pastors