Five Things Every New Mom Wants Her Pastor to Know
Rebecca Ingram Powell , Proverbs 31 Ministries
Saturday, October 23, 2004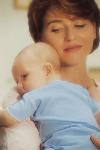 One of the most enjoyable pastoral duties is rejoicing in the arrival of a new baby with a hospital or home visit. The weeks that follow the initial celebrations, however, are times of abrupt change for the new family.

This is the time for active ministry. What can you do as a pastor to see your regular members through this time of transition and attract new families to your church fellowship? Here are five things every new mom wants to tell her pastor.

1. "I need a place to nurse my baby."

The American Academy of Pediatrics recommends breast-feeding as the best source of nourishment for babies through their first year of life. More than ever, women are opting to nurse their babies. If your church doesn't have a quiet, comfortable place for a mother to breast-feed her baby, you may not see her until the baby is weaned. "I wanted to nurse my child," says Anne, of Nashville, "and I didn't want to have to stand up in a cold restroom to do it."

Many mothers make a commitment to nurse and then find their church is not suited to this. Support these mothers by finding space. My home church, Parkway Baptist Church in Goodlettsville, Tenn., cleaned out a former laundry closet, painted it, and then simply equipped it with a comfortable rocking chair and side table. Located next to the nursery, it offers privacy and convenience for both mother and baby.

"Providing a comfortable place for nursing mothers to feed their babies is an easy and inexpensive way to communicate the message, 'We care about you!'" explains Gerald James, pastor of Grace Baptist Church in Paragould, Ark. "Some people may think that they don't have enough nursing mothers to do something like that, but the fact is, they might have more if word got out that they were a church that really cared about young families."

2. "I need to feel comfortable leaving my baby in the nursery."

Church nurseries can be some of the filthiest places around. Stay-at-home mothers often complain of their children getting sick after visiting the church nursery. "I don't go anywhere else," lamented one Kentucky mom. "When my baby gets sick, it's after we've been to church. My own pediatrician told me that church nurseries are notoriously germ-ridden. Until my baby is past this stage of putting everything in his mouth, we're opting to stay home."

Is your nursery cleaned and sanitized after every service? Are the crib sheets washed and changed? Are good health rules posted so that all workers are reminded to wash their hands after changing diapers or wiping noses?

Eddie Poole, discipleship pastor at Canopy Roads Baptist Church in Tallahassee, Fla., recognizes what many young mothers are looking for. "The target demographic for our church is professional couples with children," he explains. "We've found that one of the first things these families look for in a church is a clean and secure nursery, staffed with competent workers for their children. If we don't offer first-class [care] and excellence in the nursery, the families will not return."

3. "I need to know the nursery workers care about my baby and me."

Who is on the front lines of your church nursery? Staff your clean nursery with friendly, experienced people who sincerely love children and parents. While older youth can be great helpers in the children's department, they do not need to work with children under 2 years of age, and even then, there must be an adult supervisor.

There should always be at least two people caring for the babies. You are understaffed with one. This fact was underscored for me when my son was first learning to walk. Our family attended the early morning service, and there were never more than three children in the nursery at that time. We had one nursery worker. One Sunday, my son fell and injured his head on a doorframe. The nursery worker brought him, screaming, and the other two children under her care to the door of the sanctuary to notify me. There was no other way for her to get help.

What about other emergencies? Deborah Allen, who serves as nursery coordinator at Eastside Foursquare Church in Bothell, Wash., says, "It's a good idea to have one person who is CPR-certified on duty at all times. We arranged a certification class with members of our local fire department and then offered it to the entire church." This kind of sensible teaching would be helpful not only to children's workers, but also to parents. It shows the church caring for children in a truly practical, active fashion.
Recently on Pastors / Leadership
Have something to say about this article? Leave your comment via Facebook below!
advertise with us
Example: "Gen 1:1" "John 3" "Moses" "trust"
Advanced Search
Listen to Your Favorite Pastors