Five Things Every New Mom Wants Her Pastor to Know
Rebecca Ingram Powell , Proverbs 31 Ministries
Saturday, October 23, 2004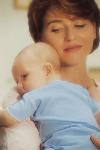 Allen also recommends that the nursery be equipped with a telephone and smoke alarm. And if the nursery is some distance from the sanctuary, she cautions, "Be sure outside doors are locked during nighttime services." Maybe you haven't thought about some of these safety measures. These days, unfortunately, we have to.

4. "I need help!"

"It is essential that the church family provide help for moms in the first couple of weeks after giving birth, especially if their extended family is not close by," Eddie Poole says. "In our church, this care, including meals and home visits, has often been what God has used to draw a family closer to him." Gerald James agrees. "I know of no better opportunity for a Sunday school class to build bridges of love to members or prospects than when they have been blessed with a new child. Unlike ministry in times of sorrow or crisis, ministering to a family with a newborn can be a joyful time of celebration. It's an opportunity to see and rejoice over the precious gift of life."

For the new mom, the first few weeks can be a particularly trying time, as she and the baby adjust to one another. This is true for a first-time mom and also for mothers with one or more children. "Moms need meals provided during those first few weeks," says Marla, a mother of four. "They also need an afternoon out with playmates for their older children, a load of laundry washed, or just an hour or two of time donated for a nap. These are all things I could have used but did not want to ask for."

Poole suggests that the church family work as a team arranging meals and running errands for the new family. His final recommendation focuses on the baby's parents as a couple. "When the mom is comfortable enough to get out of the house, we encourage a date night with her husband. Our church family gives her the opportunity through free babysitting for the older children and even the baby if she desires. This has been a true blessing to many moms."

5. "I need to fit in."

Not all new mothers are married. Where does the single mother fit in to your church? She should be made to feel welcome, and she should be ministered to in the same way as a married mother, with meals, visits and the celebration of her baby's life. Lynnae Hall, of Cove United Methodist Church in Hampton Cove, Ala., has worked with several single mothers. "The single mother needs to celebrate her baby. The difference between her and a married mother is one regarding shame and feelings of guilt. She feels that she doesn't deserve the attention, but she wants it at the same time."

A single mom experiences all the ups and downs of life with a newborn on her own, without a husband. "I think Jesus would minister more intensely to the single mom," Hall says, "because she does not have the fellowship of a husband, the friendship of a husband or his physical support during that time of fatigue and postpartum depression." A church can minister to single mothers by partnering with local crisis pregnancy centers. A Sunday school class can "adopt" a mom and her baby and tend to their needs, not only by providing for them financially, if necessary, but also by building a relationship.
Ministering to single mothers and supporting them does not mean the church condones sex outside of marriage. What it does mean is that the church recognizes an opportunity to share the love of Jesus with people who need him.

Rebecca Ingram Powell is a certified speaker with Proverbs 31 Ministries and the author of "Baby Boot Camp: Basic Training for the First Six Weeks of Motherhood," a devotional book for new mothers. To find out more, please visit www.rebeccapowell.com.
Recently on Pastors / Leadership
Have something to say about this article? Leave your comment via Facebook below!
advertise with us
Example: "Gen 1:1" "John 3" "Moses" "trust"
Advanced Search
Listen to Your Favorite Pastors