Grace, Porn and the Church
Mike Genung, Founder, Blazing Grace
Thursday, December 13, 2012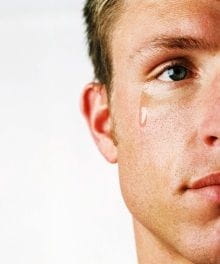 I fear we are becoming too sophisticated to be desperate for God. We can get so caught up in having the right teaching and building up our knowledge banks that we don't take a hard look at what's going on in our heart. If I have the right theology but my heart is dead, bitter, or worse, lukewarm, something's wrong. Grace must go from the head to the heart for change.
None of this is to say that we will achieve perfection in this life. But when a man is broken by the truth of his wretchedness and has a holy fear of God, he will see his desperate need for mercy and will go hard after the Lord all his life. He will "love God much because he knows God has forgiven him of much" (Luke 7:47), and will be more likely to fulfill the greatest commandment, which is to love God with all his heart, mind, soul and strength (Luke 10:27).
Grace exposes our pride, fear, and self-righteousness.
In his new book ReFocus, Jim Daly of Focus on the Family tells the story of when he met with a well-known homosexual activist. Although they disagreed on many points, when Daly shared the love of God with the man, tears came to his eyes. Daly walked away feeling like God had intervened and brought a ray of light to that man's life.
But when he returned to his office, Daly was quizzed about the meeting by a member of his staff. This person feared that Daly was in jeopardy of compromising his principles because he met with a homosexual activist, and that if word got out of the meeting it would embarrass Focus on the Family.
Daly wrote that he had a greater clash with his Christian brother over sharing the grace of God than he did with the homosexual activist. Daly also commented that if we want to live as Jesus did we will encounter resistance both inside and outside of the church.
XXXchurch is a ministry led by Craig Gross. They attend porn conventions and hand out Bibles to workers in the porn industry, and have led some to Christ. God is doing amazing work through XXXChurch, one example of which is a former porn producer who went to seminary to become a pastor. They also provide help for those who struggle with sexual sin.
In his book Starving Jesus Gross writes that 95% of the hate mail they receive comes from Christians.
Don't believe me? They've got pages of these letters up on their website. XXXChurch has been called "wicked," "reprobates," "false prophets," "evil," "snakes," and more, complete with Scripture.
Grace provokes fear in those whose view of the Christian life is that it must be safe, contained, squeaky clean and orderly. When someone reaches out to a porn actress, a homosexual, a sex offender, (or how about a Muslim?) it turns their suburban illusion of controlled, comfy religion on its head.
Grace exposes our pride and self-righteousness if we view others as less worthy of God's forgiveness than ourselves just because their sin makes us squirm. We're blind to the fact that we're just as wretched as they are, and maybe more so because pride is number one on the list of sins God hates (see Proverbs 6:16-18 . Note that sexual sin doesn't make the top seven.
Sometimes the church blocks the flow of grace more than it encourages it.
I think we need some Sundays where the pastor hits us with an industrial strength, in your face, confrontation of our self-righteousness, pride and fear. We desperately need to be convicted of our sin as time is short, and none of us wants to be a stumbling block to God's work.
Such conviction would be another act of God's grace, because we will be brought back full circle to the truth of our brokenness, sin, and desperate need for His forgiveness.
That's a great place to be.
Mike Genung struggled with sexual addiction for 20 years before God set him free in 1999. He is the founder of Blazing Grace, a ministry to the sexually broken and their spouses, and the author of The Road to Grace; Finding True Freedom from the Bondage of Sexual Addiction, available at www.roadtograce.net.
Publication date: December 13, 2012
Recently on Pastors / Leadership
Have something to say about this article? Leave your comment via Facebook below!
advertise with us
Example: "Gen 1:1" "John 3" "Moses" "trust"
Advanced Search
Listen to Your Favorite Pastors