How Bible Study Changed My Life and Saved My Marriage
Christy Tennant, Columnist for Bible Study Magazine
Thursday, May 06, 2010

To emphasize his point, Lawson shared a favorite illustration. "My study of the Word is the meat and potatoes of life—it is what grows and nourishes me. Other studies, the ones that talk about people's personal experiences with God, are more like spices. I need the nourishment that comes from studying the actual texts … the studies of other people add extra flavor to that substance. Precept Ministries' passion is to get you into the heart of the substance. We want you to explore Scripture for yourself, then enjoy the spice of reading what others have to say about their own studies."
This "meat and potatoes" approach provides consistent nourishment for Lawson, but what happens during the inevitable seasons of spiritual famine? Maintaining a personal relationship with Christ and a fresh approach to God's Word is a struggle that many pastors and ministry leaders face. How does this professional Bible teacher keep his own cup filled?
"I see that problem in others and I wrestle with it myself. Mostly it's attitude. My mentors taught me that the best teaching is done when it's an overflow of what God is doing in my life, so (as a pastor) my goal is not to come up with a great sermon, but rather to have a great relationship with my God that spills out as I teach and interact with others," says Lawson. "In addition to that attitude, I have to make myself get up and pursue God. I begin my day, end my day, and sometimes take time in the middle of the day, to just read a Psalm or a chapter of a book in the Bible and meditate on it." Lawson also finds journaling to be very effective, noting that writing things down helps him listen and discern God's leading in his life.
In his twenty-plus years in ministry, Lawson has encountered many different resources and tools for studying the Scriptures. Asked which three resources should be on every Bible study leader's shelf, Lawson was very quick to note that, while it may seem obvious, the most important resource is the Bible itself.
"The single most important thing for any leader, before looking to any other resource, is to read the text and find out exactly what the text says. We often jump to what we think a text means, but first we need to see what it says.
So to start with, read the text! Without commentaries or interpretations of others, just read the text. This is about 70% of my energy—looking for repetition in the text, answering the 'who, what, where, when, why and how' questions, summarizing the main points of each paragraph in one sentence or even just a phrase, and thinking about how all of this applies to me on a personal, practical level. This is just straight up engaging with Scripture— it lays a solid foundation before I use any other tools."
"Now, having said that, the second most common resource I use is Logos Bible Software. I wouldn't be lost without it, but I would certainly be handicapped! The number of volumes and resources in that software has made my electronic library much bigger than my actual library. Plus, it's easily searchable. I can find something in seconds that would take me hours to look for if I were physically sifting through book after book." Lawson notes that he also frequently uses an English dictionary, looking for alternate meanings and nuances to words, helping him get a better understanding of what translators meant by the particular words they chose.
Listening to David Lawson talk about his work, it is evident that he loves equipping people to mine biblical treasure. As he shares throughout the world, whether through a book he has written or a seminar he leads, his overflowing cup spills on those around him, spreading a passion for Bible study and love for the God who inspired it.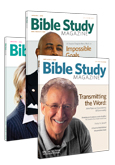 Article courtesy of Bible Study Magazine published by Logos Bible Software. Each issue of Bible Study Magazine provides tools and methods for Bible study as well as insights from people like John Piper, Kay Arthur, Mark Driscoll, Randy Alcorn, John MacArthur, Barry Black, and more. More information is available at http://www.biblestudymagazine.com. Originally published in print: Copyright Bible Study Magazine (Nov-Dec 2008): pgs. 41-42.
Publication date: May 6, 2010

Recently on Pastors / Leadership
Have something to say about this article? Leave your comment via Facebook below!
advertise with us
Example: "Gen 1:1" "John 3" "Moses" "trust"
Advanced Search
Listen to Your Favorite Pastors