How to Prevent "The Preacher is a Joke" Syndrome
Joe McKeever
Monday, May 16, 2011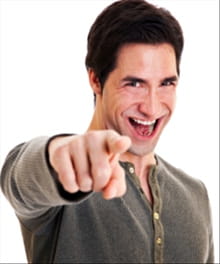 It sounded cruel, but he was not a believer and his assessment of the former pastor was an honest statement of how he felt.
After hanging in with a church of their denomination for too long--watching the pastor drive people away by his lack of ministry, his poor leadership, and a neglect of everything that makes a church a church--the entire family reluctantly moved to a church a few miles away. What they found there was striking in its contrast.
The congregation was warm and friendly, the church was thriving, and the pastoral team was outstanding. The minister's sermons were powerful, biblical, and convicting. When a grandchild went into the hospital for surgery, the pastor left home before 5 am and met the family in the medical center. After praying with them, he stayed until the medical staff reported that the surgery had ended and the child was doing great.
After he left, the son-in-law, father of the child who had just come through the surgery, offered his assessment of the contrast between this new pastor and the old one who was still in the former church. "The other one was a joke," he said.
A joke.
The family member who reported this to me observed, "We would not agree with Bobby that any minister is a joke. Remember, Bobby is unsaved and was not raised in the church. This is his honest reaction." Then she said, "But no one in our family can help but be struck with the contrast in the sermons of the two men."
How were they different? The former minister filled his sermon time with jokes and funny stories then ended with a short devotional thought. The new minister preaches a powerful message direct from God's Word, the kind of sermon that cuts and convicts and inspires and blesses.
When a conversation (or story or scripture or quote) lodges itself in my heart and will not leave me alone, I know the Holy Spirit has sent me a message. That's the case with this.
The contrast between those two preachers and those two types of sermons need closer investigation. Let's attempt to do that here.
The Pastor is a Joke
That brutal assessment stings, I admit. Having preached hundreds of sermons--thousands, probably--over nearly a half-century, no doubt I have delivered more than my share of messages that could be described as several funny stories ending with a devotional thought. I say that to my shame.
In defense of the "former" pastor, the one who earned this put-down from Bobby, I feel confident he preaches the way he learned. Perhaps the pastor he grew up under preached this way. If so, it means he has not had a good role model after which to pattern himself.
That's no excuse, of course. Unless the pastor has lived under a rock or in a vacuum, he surely has heard other men preach. These days, thanks to the internet, any preacher--almost any human on the planet--can find a thousand sermons at his fingertips which he can hear while seated at his desk.
So, my defense of him will not hold.
One wonders whether this "former" pastor is paying attention to the signs all around him that his ministry is not working out. And what are those signs? Not just one of these, but all together form an overwhelming indictment of his ministry: severely diminishing attendance, key leaders leaving for other churches, finances dropping through the basement, and several of the finest Christian people he knows informing him earnestly and humbly why they can no longer abide his ministry.
That pastor happens to be serving a church without a team of strong lay leaders, otherwise they would have taken action before things got to this point. Without strong lay leadership, the church began to die. From all reports, it's on life support at the moment.
Faithful are the wounds of a friend; but deceitful are the kisses of an enemy. (Proverbs 27:6)
Recently on Pastors / Leadership
Have something to say about this article? Leave your comment via Facebook below!
advertise with us
Example: "Gen 1:1" "John 3" "Moses" "trust"
Advanced Search
Listen to Your Favorite Pastors