Imitation of Christ: New Reading of an Old Book
Dr. Stanley J. Ward
Friday, February 18, 2011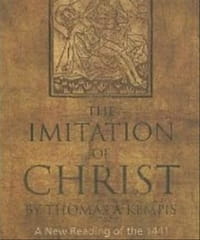 INTRODUCTION
With all the new Christian books available, why should believers bother with reading, or (gasp!) re-reading old ones? C.S. Lewis offered great advice for readers choosing between new or old books:
"The more 'up to date' the book is, the sooner it will be dated."[1]
"The sure mark of an unliterary man is that he considers 'I've read it already' to be a conclusive argument against reading a work. . . . Those who read great works, on the other hand, will read the same work ten, twenty or thirty times during the course of their life."[2]
"I can't imagine a man really enjoying a book and reading it only once."[3]
Thomas a' Kempis's Imitation of Christ is an old book that deserves a new reading, and William C. Creasy's A New Reading of the 1441 Latin Autograph Manuscript provides both scholarly and practical readers an introduction to or a reacquaintance with one of Christianity's classics. Some critics suggest Thomas' On the Imitation of Christ is second only to the Bible in its popularity among Christian readers. After rereading this book, which charged my sophomore year of college with spiritual significance, I can again appreciate the Imitation's classic status.
Rereading the Imitation proved the wisdom of Lewis's advice on reading old books, and reminded me that classic books both demand and deserve more than one reading.
ABOUT THE AUTHOR AND TRANSLATOR
Thomas a' Kempis (ca. 1379-1471) spent 72 years of his life at the Mount St. Agnes Monastery and died from plague.[4] Besides writing the Imitation sometime between 1420-1427, Thomas also wrote a biography of Gerrard Groote[5] and a chronicle of life at Mt. St. Agnes monastery. Like his contemporaries, he wrote in Latin.
William C. Creasy is the creator of www.logosbiblestudy.org and a retired UCLA professor whose love for the Imitation is both professional and personal. He first discovered the book as a college student and read it out of academic interest. In graduate school, he used 16th century English translations of the Imitation to study the development of English prose. And when, like Dante, he found himself lost at the halfway point in life's journey, he returned to the Imitation and found spiritual guidance that led him to Christian faith. So for Creasy, translating the Imitation is not merely an academic activity - it is a labor of love and spiritual devotion.
SUMMARY
Like the Bible, The Imitation of Christ is not just one book; it is a collection of resources now compiled into one book. The Imitation includes four books that vary in both length (book two has only 12 chapters, and book three has 59) and themes. Book one contains "useful reminders for the spiritual life." Book two contains "suggestions drawing one toward the inner life." Book three includes advice "of inner comfort." And book four is "the book on the sacrament." Each chapter begins with a woodcut illustration from various 16th century translations of the Imitation.
Recently on Pastors / Leadership
Have something to say about this article? Leave your comment via Facebook below!
advertise with us
Example: "Gen 1:1" "John 3" "Moses" "trust"
Advanced Search
Listen to Your Favorite Pastors