Josh McDowell on Defending the Bible
Christy Tennant, Columnist for Bible Study Magazine
Wednesday, April 07, 2010

When skeptics become seekers and ask McDowell for guidance on how to approach reading the Bible, he is ready with a simple suggestion. "I challenge them to start with the Gospel of John, then Luke, then Mark, and then the book of Romans, and the rest of the New Testament before they ever go to the Old Testament. And I tell people to simply pray an honest prayer: 'God, if you're God, and Christ is your son, and if it is true that he died on the cross for the sins of humanity and my sins, then give me the conviction of it as I read.' The reason is, in John 14:17 and 15:26, it says that the Holy Spirit will lead you in all truth. Now even though that's a direct reference to the apostles, I think if you take into account all of the scriptural teaching, you can apply it to anyone. God gave the Holy Spirit to lead people in truth who are sincerely seeking the truth." As far as translations, he recommends for first-time Bible readers, "I would tell them to use the New American Standard Bible or the New Living Translation."
Having spent nearly five decades in ministry, Josh McDowell is no stranger to the unique challenges that face people whose vocation is to be ready in-season and out-of-season to preach the good news of the gospel. Recognizing that preaching and writing, and speaking out as a proponent of Christianity, is a demanding vocation, McDowell has a good support system in place: his wife and family. "Probably the number one thing comes back to my family—my wife and my four children. If I am right in my relationship with Dottie and if I am right in my relationship with my children—if I am in a healthy place in my marriage and family, I hardly ever get depressed or down. If I'm not in a right relationship with Dottie or one of my kids, it can greatly affect me, but that is very seldom. First, it comes back to my own family."
Besides maintaining healthy relationships and open communication with his immediate family, McDowell says he meditates on Scripture often, keeping his thoughts on Christ and God's paradigm for life. "I constantly think through Scripture, whether it's preparing for a talk or in my own personal life," he says.
Third, McDowell does what he can to make sure that he is filled with—and being filled by—the Holy Spirit every day. Consciously desiring to be filled, confessing his sins to God, examining his heart and life to see that every area he can think of is yielded to God, he then simply thanks the Holy Spirit for filling him, by faith. "Because if I'm not filled with the Holy Spirit, moment by moment by moment, it is easy to get my eyes off Christ, get my eyes onto myself, get my eyes onto the problems around me and get discouraged." Fortunately, for McDowell, discouragement is very rare, thanks in part to a circle of friends he credits for consistently and consciously encouraging him to walk with Christ. "If I am kind of down, I'll call my wife and say, 'Honey, I'm kind of down, but it's really stupid because everything is going great.' In fact, come to think of it, the only time I get down is usually when things are going great. I think most people are vulnerable not when things are going wrong, but when things are going fantastic and God is using them in a mighty way."
Deeply rooted in Scripture, zealous to contend for the faith and with a full calendar for the foreseeable future, Josh McDowell is, by all accounts, being used by God in a mighty way. With new books in the works, buzzing excitement about new evidence for the Christian faith, and a growing overseas ministry, McDowell anticipates many more years' worth of writing, speaking and equipping believers around the world. In everything he does, his mission is the same: to present skeptics and seekers with solid evidence for the deity of Christ, the reliability of Scripture and the historical facts of the resurrection of Christ—to equip believers to always be ready to give an answer for the hope they have as followers of Jesus Christ.
Notes:
*Josh McDowell's book More Than a Carpenter is available in several languages and continues to be in hot demand, particularly overseas.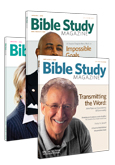 rticle courtesy of Bible Study Magazine published by Logos Bible Software. Each issue of Bible Study Magazine provides tools and methods for Bible study as well as insights from people like John Piper, Kay Arthur, Mark Driscoll, Randy Alcorn, John MacArthur, Barry Black, and more. More information is available at http://www.biblestudymagazine.com. Originally published in print: Copyright Bible Study Magazine (Nov-Dec 2008): pgs. 11-16.
Publication date: April 7, 2010

Recently on Pastors / Leadership
Have something to say about this article? Leave your comment via Facebook below!
advertise with us
Example: "Gen 1:1" "John 3" "Moses" "trust"
Advanced Search
Listen to Your Favorite Pastors