Leaders Who Belong to the Order of the Towel Model True Leadership
Dr. Bill Lawrence, Leader Formation International
Wednesday, March 21, 2012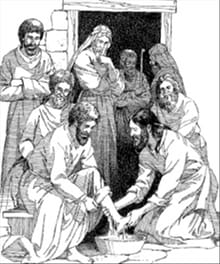 As pastors, we follow Christ's example and minister as He did. Of course, it is He who does the ministry through us as we abide in Him (John 15:1). In John 13:12, Jesus does three things as He commands and motivates us to lead as He led.
First, He affirms His identity and establishes His authority (13:12-13). He begins with a question. "Do you know what I have done to you?" He raises this question in order to make them think as He makes His point. You recognize My authority over you by calling Me Teacher and Lord, and you do well because that's Who I am. I am your Teacher and your Lord; I do have true authority over you.
We struggle to understand the nature of our authority as servant leaders. Often pastors are afraid to assume authority lest they become arrogant or presumptuous, yet godly servant leaders in the Bible do not have this fear. Jesus had no struggle here. He declared His authority without doubt or hesitation. Paul expressed no doubts about his apostolic authority when in 2 Corinthians he asserted it with great energy and emotion. The same is true in Galatians where he dealt with the essence of the gospel and asserted his authority to define the truth. Paul also directed Timothy to exercise authority in the Pastoral Epistles when he told him to tell women how to dress (1 Timothy 2:9) and the rich how to manage their money (1 Timothy 6:17). Servant leaders have authority, but their authority does not come from themselves. We find it in Christ, not from our position, but through our submission to Him. Our authority results from our Christ-likeness, and we gain authority as we become like Him. If we fail to earn and exercise servant authority, we face accountability from our Teacher and Lord who has commanded us to minister His way, and He ministered with authority.
Second, He affirms Himself as our example and tells us to wash one another's feet as He washed ours. His words are simple and clear. "Now that I, your Lord and Teacher, have washed your feet, you also should wash one another's feet. I have set you an example that you should do as I have done for you" (John 13:14). This command describes a debt, an ethical obligation that we must fulfill. [1] We are certainly no better than Christ; if He washed feet, can we expect to do any less? This is the heart of servant leadership.
Finally, Jesus gave a special blessing to those who obey this command (13:17). All commands are given to be obeyed, but this command brings with it a special blessing. What is more difficult than humbling ourselves to our peers and serving them in ways we want to be served? We have thoughts like, "I should be doing this rather than helping him do it. I'm better than he is at this anyway." Or, "How did he get where he is? I was a better student than he was in seminary." Competitive thoughts cloud our thinking, lock our knees, and paralyze our hands. We don't want to wash each other's feet. We leave the basin empty, the towel hanging on the wall. "We would gladly wash the feet of our Divine Lord; but He disconcertingly insists on washing ours, and bids us wash our neighbor's feet." [2] Yet there is a blessing in this; it is the blessing of obeying Jesus, of growing more like Him, of gaining freedom from our pride and fear, the blessing of making a difference in the lives of those whom we serve.
Recently on Pastors / Leadership
Have something to say about this article? Leave your comment via Facebook below!
advertise with us
Example: "Gen 1:1" "John 3" "Moses" "trust"
Advanced Search
Listen to Your Favorite Pastors