Make Your Congregation Aware of Alternative Christmas Lists
Dave Burchett
Thursday, November 02, 2006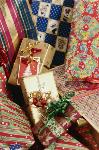 While I bought Halloween candy this week I thought about what I want for Christmas this year. I started with a list of things I really, really want:
Everything at the Bose store
A high definition television
The latest version of my Trio phone (I don't have the Windows version for heaven's sake!)
Several pounds of books
Dozens of DVD's
Then I listed everything I really, really need.
1.
2.
3.
Yep. I don't need a single thing for Christmas. I give bags of clothing I no longer wear to charities every year. We have more stuff in our house than we can figure out how to store. My television is in color and has a sharp picture. Not high def... but high enough for now. My phone does, unfortunately, still receive calls. I have more books than I can read and more DVD's than I have time to watch. I still want the stuff from the Bose store but Jesus never said this journey would be easy.
So here is my request for this year to my Sons and the stunning Mrs. Burchett -- pool the money you would have spent on me and go the website of World Vision. Then click on the Gift Catalog and give a gift to people who really, really do need things. There you can find a need for whatever stirs your heart, from animals to education to fresh water provision. Nothing would make me happier. Here is just a sampling from the catalog:
For just $75 you can buy a goat for a family and provide year round milk and cheese.
How about building a fish pond stocked with tilapia to provide food and income opportunities for a village? The cost is $200.
Like more exotic animals? Your Christmas money can provide an alpaca ($360) or a camel ($685) to a struggling family.
For $50 you can contribute safe water to an African school or for $100 you can help dig a deep well.
Want to help out children in the United States? A gift of $25 will fill a backpack and $500 provides essentials to a needy child.
You can contribute to rescue young girls from the sex trade industry or a little over $100 will give pre-natal care for women who have no hope of that basic need.
Help build a health clinic or pay for eye surgery for a child that has no hope to learn without the procedure.
Give the gift of musical education, sports, and other educational needs.
How about offering new hope to children with disabilities by giving a wheelchair or prosthetic limbs to war victims?
Feed and care for widows and children affected by the HIV/AIDS plague in Africa.
Can you read that list and not feel just a little sheepish (not the type that's available for $105) about our lack of sacrificial giving as Christians in this country? Here is some research from a very annoying and convicting organization called empty tomb, inc. They are also a very important ministry that God has raised up to be a Nathan to our comfortable and consumeristic Christianity. Here is how America spends some of it's resources:
In 2003 American consumers spent $53.6 billion buying jewelry and watches, a 5.1% increase over previous year.
U.S. Consumers spent more than $24.3 billion on candy (2002) and, on average, consumers made $84.34 worth of candy purchases.
We spent $64 billion on soft drinks in 2003. In 2000 Americans spent $13 billion a year on chocolate in all its forms (I know, it just got personal for many of you including my bride).
In 2000 American toy sales reached $23 billion.
How about $38 billion spent on state lotteries?
Americans spend $600 million on teeth whitening each year.
We spend over $300 billion on Botox to reduce the appearance of wrinkles.
God help us to see the world with His heart. The good news? We can make a real difference. And the time to start is now. Again, according to empty tomb, inc we have the potential to literally change the world in the name of Jesus. Here is the analysis of the empty tomb organization:
Recently on Pastors / Leadership
Have something to say about this article? Leave your comment via Facebook below!
advertise with us
Example: "Gen 1:1" "John 3" "Moses" "trust"
Advanced Search
Listen to Your Favorite Pastors