Ministry Companions: Youth Workers & Pastors in Partnership
Will Penner and Dan Sanders-Wooley, Youthworker Journal
Monday, February 07, 2005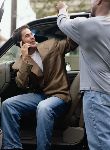 Seven years ago, a new church-planting pastor met a struggling graduate student who was looking for a place to live. Today this senior pastor and youth minister are friends, colleagues, coworkers, and, most importantly, companions in ministry.
Though the graduate student had recently been licensed to the ministry, he wasn't looking for a job. He was looking for an historic home to caretake, in lieu of paying rent and utilities; that would be just enough, he'd calculated, to make his stipend cover expenses and let him focus all his energies on getting a Ph.D. in Education and Human Development. In search of such a home, he sent letters to everyone he could think of, including the local historical preservation society.
The young Presbyterian Church was in the process of seeking a new choir director, and the founding pastor of that church outside Nashville had also been on the lookout for someone who'd make a good youth minister. As a former Young Life leader and church youth minister himself, he understood the impact a youth worker could have on the life of the church.
As these things often happen, the president of the historical society had a teenager at this church…and she served on the church's personnel committee. The graduate student's letter referenced the student's experience leading church choirs. So, when she received the letter, she passed it on to the pastor, who called the graduate student—who, since he'd found no historic home (or any other kind) to live in, was open to almost anything.
The graduate student went to meet with the pastor, thinking they'd discuss a position as Minister of Music, a role he'd served in two previous churches. When the pastor started talking about youth ministry, the student was horrified. After all, youth ministers worked too hard, had weird hours, got far too little prestige, and didn't get paid well! There was no way! The pastor, however, recognized someone with great youth leadership potential, so he offered him the job as choir director combined with "some" youth ministry responsibilities. The student accepted the challenge, and a new friendship was formed. It seemed that they'd work well together.
And they've been doing it ever since.
Companions
According to Mark 3:13-19, many, many people were surrounding Jesus, wanting to be a part of whatever it was he had to offer. Among the throng, Jesus chose 12. He called them to heal the sick and preach the gospel, but, first and foremost, he called them to be his companions in ministry.
When we first thought of writing an article about how well we work together, we thought about a dialogue approach or even a debate. Maybe the senior pastor would write a "what all senior pastors should know about their Youth Ministers," and vice-versa. As we wrestled with our scompanions in ministry. It's an accurate image of what we've experienced together and a good model for staff relationships in the church.tructure, we continued to return to this notion of
Because we approach our ministry in partnership, we approached this article the same way. We decided to write the entire article together in order to model our work. We've both heard the nightmare stories about staff relationships in churches (and have some experience in being parts of dysfunctional staffs ourselves). Most of those negative experiences seem to result from churches developing business models, instead of biblical models, for their staffs. But it's the model of companions in ministry that seems the most appropriate for staff relationships.
Recently on Pastors / Leadership
Have something to say about this article? Leave your comment via Facebook below!
advertise with us
Example: "Gen 1:1" "John 3" "Moses" "trust"
Advanced Search
Listen to Your Favorite Pastors