New Beginnings & a Lesson from Joshua
Scott Reece, Pastor
Thursday, December 21, 2006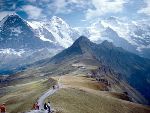 There's something awesome about closure. I love bringing a defined end to a project, a problem or a season. Consequently, I love the end of the year. It not only represents a sense of completion, but I know that something new is ahead… and that's what I really love: new beginnings!
I'm sorry… I can't help it! I really start to get excited about this time of the year. I love the holidays. Yes, they do tend to be somewhat stressful, but I am determined that this year I am going to enjoy all of the elements of the holidays! I'm going to enjoy putting up the decorations – even though they have to be taken down in just a few weeks. I'm going to enjoy shopping with thousands upon thousands of my closest friends at our local mall. And I'm going to enjoy finding that perfect gift for each special person in my life. But, let me move on to what really excites me about this time of year.
In the Old Testament, Joshua found himself in that very place – at a new beginning. Moses had passed on to his glory, and the children of Israel had not yet begun their journey into the Promised Land. Up to this point, they had only journeyed to it.
Coincidentally, doesn't that seem to represent a lot of our lives? In so many areas, we're just not there yet; we're still on the way. But we can be encouraged. God is bringing closure to that season of our lives and the journey into is about to begin!
Joshua had a promise from the Lord that he would be used to lead this massive movement into a land that was filled not only with wonderful milk and honey, but with despicable giants who were guarding those precious treasures! It would not only be a land of delight, but also one which would require military action along with determination and persistence. Prior to beginning this incredible journey, Joshua would need more than just a good idea or the promise of a fresh start. He would need what I call a sustaining word from the Lord – a promise to keep him even when times got tough. We can read the words he received in Joshua 3:7, where the Lord told Joshua:
Today I will begin to make you a great leader in the eyes of all the Israelites. They will know that I am with you, just as I was with Moses.
The foundation for that promise is found just a few chapters before, in Joshua 1:9:
Have I not commanded you? Be strong and courageous! Do not tremble or be dismayed, for the Lord your God is with you wherever you go.
God promised to make him a leader, and Joshua had to choose to be brave while God enlarged his territory – physically, with taking the land of the giants – and relationally, in the eyes of those around him.
This is what I call "kingdom expansion" in our lives – and the foundation of that is always the Word of God. Like Joshua, we are called to a specific purpose, which unfolds as the Word of God works its way into what we say, what we do and how we think. Way before the battle or the journey begins and even into the battle, we must reconfirm our foundation by reminding ourselves of God's word to us: repeating it with our thoughts and our words, and living it in our actions.
God's Word promises we will have plenty of opportunities to become distracted and disengaged, ultimately denying (and being denied) the very things God has promised us. But, we must maintain that sustaining Word of God on our lives, which becomes our expectation of what God is going to do, where we will be, what will take place.
There were three specific things that Joshua had to do in order to successfully take his people into the place to which God had called them. In approaching the New Year, the new challenges and the new opportunities, we can learn these specific things from Joshua's life.
Recently on Pastors / Leadership
Have something to say about this article? Leave your comment via Facebook below!
advertise with us
Example: "Gen 1:1" "John 3" "Moses" "trust"
Advanced Search
Listen to Your Favorite Pastors