New Beginnings & a Lesson from Joshua
Scott Reece, Pastor
Thursday, December 21, 2006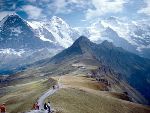 Plan
Joshua's plan was one of courage and determined success predicated on the Word of the Lord to him. God had already instructed Joshua and he not only had a tactical, militaristic plan, but he also had a spiritual plan. This was God's journey and would not be waged by the weapons and inventions of human reasoning and understanding.
As I face my New Year, I must have a plan and a determined purpose. I will not just exist through this year, but I will journey! I will walk out God's will for my life. In the ways that I talk, think and act; it will be obvious and apparent that I am planning to go over my Jordan – my wilderness, a land of confusion and distraction – and into my Canaan – my Promised Land, a land where my dreams and promises come true.
Prepare
What will it take to cross into my Canaan? Is it just going to happen or is there something that I must do to in order to increase my capacity? Far too often, we assume that this stuff of God's kingdom is just about miracles and unexpected – even supernatural – occurrences. But I've found that it's far from that. Most of what we experience in the kingdom of God is a matter of our preparation and our expectancy and God's response to it.
We have a responsibility to be on the front lines of bringing God's will on this earth. It's interesting to me that God told Joshua, "I will be with you." In other words, you get out there and do what I have called you to do and I will be with you as you do it!
Where has God called you to make a difference? What promises and dreams do you have? Which scriptures have come alive to you, giving you a future and a hope? What will it take for you to get to where God has called you to be? And what commitment are you willing to make to get there? This is how we prepare, and make room for God to bring His blessings into our lives.
Possess
The bottom line is that God was not going to hand Joshua's destiny to him on a silver platter. Joshua was going to have to work for it – and work hard. So are you and I. God knew that there were giants in the land, and He had equipped Joshua and the children of Israel to defeat these very giants. It was something God birthed in them – by teaching them how to fight and how to win. By the anointing and the life of Jesus, it has also been birthed in us!
But, we must determine – must believe by faith  – that we are not going back into the wilderness. Everything that God has for us is forward and ahead of us. We must have a mentality  – the thought processes that will help us take possession of God's promises for us. Do we dare call this a "possession mentality"?
When we side with God, agreeing with His promises, planning ways to make them come about, preparing ourselves to take possession of the dreams He gives us, we can't be stopped. We just refuse to let go. We draw the line and choose not to look back. We dig our toes in the mud of the Jordan, and get going over!
Happy New Year to you!
---
Pastors Scott & Veronica Reece met while attending Bible College and since have actively pursued the increase of the Kingdom of God. Their partnership has been built on the foundation of faith. They planted a church in 1995 and have seen the church continue to grow into a dynamic, thriving fellowship. Pastor Scott teaches on family relationships, the authority of the believer, living victoriously on the earth, becoming everything you can be in Christ and walking in love. His humorous approach makes the Word fun and keeps people smiling as they learn more about the life and the love of God.
First published in The Mother's Heart magazine, a publication for mothers with hearts in their homes. Visit our website at: www.The-Mothers-Heart.com.
Recently on Pastors / Leadership
Have something to say about this article? Leave your comment via Facebook below!
advertise with us
Example: "Gen 1:1" "John 3" "Moses" "trust"
Advanced Search
Listen to Your Favorite Pastors