Pastors & City Transformation
Phil Miglioratti, National Pastor's Prayer Network
Thursday, January 25, 2007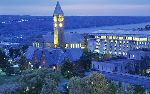 Editor's Note: Recently, the National Pastor's Prayer Network interviewed Jim Tomberlain of Catalyst, a network of church leaders seeking to impact their region.
---
NPPN: Jim, you've recently moved from leading/serving on a pastoral team to leading a collaborative effort among a variety of congregations and ministries - What drew you to this position?
JT: As a senior pastor of an emerging mega-church in Colorado Springs in the 90's, I came to believe that God had given me influence in the community that should be used beyond the walls of my congregation. I came to understand that God had given me gifts of leadership with an entrepreneurial bent that could be used to mobilize the Body of Christ for church growth and community transformation on a regional level. I saw the impact of working with other churches to serve our community together and the positive effect it had on my own congregation and on me as a leader. It was a win-win situation. We were doing good things together in the community and that was also good for our congregations.

I am convinced that if the Body of Christ in a local community can come together in unity and mobilize around its common redemptive mission, it could become an irresistible force for good that could revolutionize an entire region. When I came to Chicagoland to pioneer the multi-site church strategy for Willow Creek Community Church, I worked on forging networks of church leaders across Chicagoland to serve and impact the region together. Catalyst is one of those networks.

NPPN: Explain the vision of Catalyst. . .
JT: The vision of Catalyst is to mobilize the Body of Christ for a spiritual revolution in Lake County, Illinois. We believe that when the Church is revived and the lost are spiritually awakened in Christ community transformation takes place. Acts 2 provides our biblical model for a unified Church working together for a spiritual revolution that results in community transformation.

At Catalyst we believe we have been called to renew the hearts of God's people, reposition the Church for revival, restore the reputation of Christ in our community, and reconcile people to God in our region. Our desire is to be a "catalyst" for renewal and spiritual awakening all across Chicagoland—mobilizing tools, resources, and events and most of all the body of Christ to help bring a spiritual revolution to our region, beginning with Lake County.

NPPN: Describe the difference in perspective; how does a congregational leader think differently than a county-wide leader?
JT: Congregational leaders tend to focus primarily on their local church. County-wide leaders think about their congregations in context of the larger Church—the Body of Christ in their region They see the Church the way God sees the Church—One Church, many congregations. County-wide leaders see themselves as part of the larger Body of Christ and value the unique contributions of other local congregations, ministries and organizations in the community to the greater Kingdom effort.

NPPN: What does "One Church, Many Congregations" mean and, maybe more importantly, what are the implications of this principle for local church leaders?
JT: Throughout the New Testament, the Church is described in terms of cities—the church of Jerusalem, Antioch, Corinth, Ephesus, Smyrna, Pergamum, Thyatira, Sardis, Philadelphia, Laodicea, etc You get the idea that when God looks down on a region, He doesn't see individual churches---He sees One Church, His Family meeting in multiple congregations across a geographical area.

Recently on Pastors / Leadership
Have something to say about this article? Leave your comment via Facebook below!
advertise with us
Example: "Gen 1:1" "John 3" "Moses" "trust"
Advanced Search
Listen to Your Favorite Pastors