Portrait of a Minister (1 Timothy 4:6-16)
Michael Milton , President of Reformed Theological Seminary in Charlotte, North Carolina
Wednesday, February 11, 2009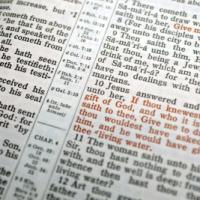 It is important to get the right portrait of the right person.
Once upon another life, before I was a minister, I did a lot of other things. I was even a caricature artist. One day, as I was pursuing my work amidst a gaggle of people all gathered around me at a fall festival, I was commissioned by a father to draw his child. I began to draw the person in front of me. It was a tremendous portrait, if I do say so myself. There was only one small problem: when I handed the portrait to the father he said, "This is not my daughter." I had drawn the wrong kid. The portrait was a perfect rendition of the child in front of me, but it was not the man's daughter! It is important to get the picture right!


We know that as fathers. And so we look to the model of fatherhood in the Bible to draw a portrait of the man we should be. We look to the Bible to get the right portrait of a godly mother and wife and everything else in life.


It is important to get the portrait of a pastor. We may have all sorts of ideas about what a pastor should do or shouldn't do, what he should or shouldn't look like.


Once I was getting my haircut, and I discerned that the barber was not a Christian—indeed had little or no background in the faith. As we were talking, I felt I had finally broken through, when he said, "May I ask you a question?"


"Yes, of course," I said with some hope for a breakthrough!


"Do all priests and monks and ministers like you have this little round place cut out in the back of their heads?" Well, he had the wrong picture of a minister to be sure!


It is important that we get the right picture, the right portrait of what God is calling us to be. This is important for a seminary. This is important for a local church. It is important for your own walk with the Lord.


Now before you check out and say, "This is a good sermon for preachers; but since I am not a preacher, this is not for me," remember that God's Word has something to say to every man and woman and boy and girl here today. For as the Lord gives us a portrait of a minister approved by God, we also see features of the believer approved by God.


Context and depth and perception are important in painting. It is so here. You see, in 1 Timothy 4:1, Paul painted a portrait of apostasy. So he turns to Timothy in 1 Timothy 4:6 and paints the portrait of faithfulness to resist the apostasy and even to save himself and others from the deadly consequences of such teaching.


And so it is in this context that Paul the apostle instructs Pastor Timothy: "If you put these things before the brothers, you will be a good servant of Christ Jesus, being trained in the words of the faith and of the good doctrine."


Because we live in a world of distorted images drawn by men, it is important to focus on the portrait of a pastor approved by God.
Paul speaks of Christ Jesus and calls Him, in this passage, "the living God." He emphasizes the divinity of our Lord Jesus by calling Him this. So let us follow Paul's language and speak of a minister approved by Christ Jesus. Exactly, what are the features of this portrait of the Christ-approved pastor (and remember, we can take the same features and apply them to a "disciple approved by Christ Jesus")?


The first feature is this:


A minister approved by Christ Jesus is a disciplined minister (vv. 6-8).

The training that Paul speaks of in verse 9 is in fact "discipline." One of the best books I have read on discipleship is based on this very verse and is called Spiritual Disciplines of the Christian Life. Paul is calling for Timothy to be practiced, disciplined, trained as he goes out.

The minister is not naturally given to the life of servanthood and sacrifice and trial that is going on at Ephesus. He must be "trained in the words of the faith and of the good doctrine." Moreover, we read in verse 7 that he should be "trained in godliness."

At Reformed Theological Seminary, where I serve, we call this training outcome "a mind for truth and a heart for God." This is the Pauline combination of faith, doctrine, as well as godliness. But what is clear is that God expects training to be in place for ministers and in fact for all of God's people, but especially for ministers of the gospel.

I once had a young deacon, naive about the ministry and sadly ignorant about the Word of God, tell me, "I see you give a speech a couple a times per week and then get all this vacation time. This sounds like a pretty good gig to me! Where do I sign up?"

In the training of Timothy, Paul trained him in order to bring about God's kingdom to a most unruly situation. Just look in 1 Timothy and see what this man faced.

• Timothy faced false teachers in 1 Timothy 1:3;
• Timothy faced the need to be transparent, like Paul, in laying his life bare before enemies in order that they might become, like Paul, a trophy of God's grace (1 Timothy 1:12); and he would have to learn that the power of Jesus to plant churches and revitalize churches lies not in his strength but in the power of Jesus moving through a broken man before the cross;
• Timothy must hold to the faith with a good conscience in spite of hardship and in the presence of others who are slipping away (1 Timothy 1:18);
• Timothy must deal with controversies in worship (1 Timothy 2:1);
• Timothy must address the issue of how to integrate faith and politics in praying for kings and all in authority (1 Timothy 2:1);
• Timothy must untangle the messy problem of women in teaching positions in the church, and he had to address the issue of the role of relationships of men and women in ordained ministry (1 Timothy 2:8);
• Timothy had to make sure that the people knew the qualifications for elders and deacons as well as the deacons' wives (2 Thessalonians 3:1); and just to go up to our text and not go any further;
• Timothy had to face off with demon-possessed false teachers who were deceiving the flock and imposing ungodly rules about marriage and diet!

Now, who wants to apply to be a minister?

The Bible is clear. The work of the gospel is opposed by Satan, not naturally accepted by the flesh and resisted by the minister himself, once he comes into contact with the demonic and the anti-Christian attitudes of not just the world but those who bring the world into the church!
Recently on Pastors / Leadership
Have something to say about this article? Leave your comment via Facebook below!
advertise with us
Example: "Gen 1:1" "John 3" "Moses" "trust"
Advanced Search
Listen to Your Favorite Pastors