Potholes And Pitfalls For Young Preachers
Bruce McAllister, Today's Christian Preacher Magazine
Monday, December 19, 2005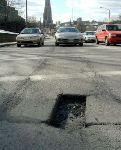 How shocking to suddenly strike a deep pothole while driving! How much more stunning to run onto the shoulder of the road and lose control of the car! The lack of alertness or focus can lead to great harm while one is driving.
Potholes and pitfalls may also bring much damage to young ministers. In the pastoral epistles Paul warns Timothy about these dangers. These warnings match observations I have made throughout years of service to churches.
Improper motives:
Paul tells Timothy that "the end of the commandment is charity out of a pure heart, and of a good conscience, and of faith unfeigned" (I Timothy 1:5). The compelling goal of ministry is to lead people to love God and others. However, the man not driven by this goal may feel compelled to prove himself, to take control, to display his newly gained seminary knowledge, or to "make things happen." Wrong motives underlie many destructive patterns of behavior among ministers. Harshness, impatience, dishonesty, and arrogance may develop because we forget our goal in ministry.
Immaturity:
Paul enjoins his younger comrade, "Let no man despise thy youth, but be thou an example of the believer" (I Timothy 4:12). The younger preacher is to give no occasion for older people in the congregation to deprecate his leadership due to his unwise, youthful behavior. While believers usually welcome the leadership of a young man of God and are willing to allow for his growth and development, they are sometimes appalled at the attitudes and actions taken by the young man. His speech, behavior, and inner character should befit a shepherd of God's flock. It seems that God often provides an older, gracious, Christlike man within the congregation to remind the pastor by example how he should conduct himself.
Intimidation:
Paul urges Timothy to "stir up the gift of God, which is in thee. . . . For God hath not given us the spirit of fear; but of power, and of love, and of a sound mind" (II Timothy 1:6, 7). Perhaps Timothy was timid.  Paul was easily assertive, but not every God-called man is at ease with the necessary duties of the ministry. It is difficult to confront the backslider, counsel the confused, comfort the grieving, and motivate the stagnant. The complexities of modern ministry make demands for which young men of God are not fully prepared. Some just feel overwhelmed and apprehensive. Yet fear clearly does not come from God. How the young man needs to draw upon the resources of God's power, love, and truth!
Indiscretion and immorality:
"Flee also youthful lusts: but follow righteousness, faith, charity, peace, with them that call on the Lord out of a pure heart" (II Timothy 2:22). The sinful desires of youth last a lifetime.  Young people wrestle with the pull of strong desires. Nonetheless, by God's grace Christians are to refrain from giving in to these passions. This is all the more true for pastors and evangelists. The young man must be extremely careful in his relationship with women. The appearance of indiscretion is almost as damaging to one's testimony as the very act of immorality.

The pastor must avoid inappropriate touching, intimate conversation, or having frequent fellowship with a woman other than his wife. Build careful ministry and marital guidelines to protect yourself from the snares of Satan and the flesh. You cannot be too careful. Delegate the counseling of women to your wife or other godly women in the church.


Recently on Pastors / Leadership
Have something to say about this article? Leave your comment via Facebook below!
advertise with us
Example: "Gen 1:1" "John 3" "Moses" "trust"
Advanced Search
Listen to Your Favorite Pastors