Protecting Pastors from Burnout
Jason Pankau and Michael Lee Stallard
Monday, March 05, 2012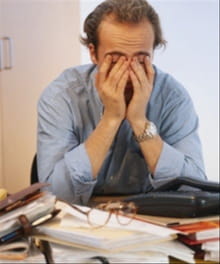 Myth 3: I will mature as a Christian by going to worship services, praying and reading my Bible once in a while. Problem: Biblical truth is often presented in isolated (topical) form without a good understanding of how it fits into the Christian life as a whole, promoting the compartmentalizing of the Christian's life. Also, there is an assumption that the appropriation of Biblical knowledge by itself will lead to spiritual maturity.
Myth 4: Jesus is our savior but doesn't really require us to relate to Him as the Lord of our lives. We are all just doing the best we can to be good people. Problem: The church community typically focuses on making converts rather than making disciples.
Myth 5: It is the job of professional clergy to do the work of ministry and the "priesthood of all believers" is not practical or a good thing to encourage at
our church. Problem: To influence many people simultaneously is generally considered the method of choice. Personal one-on-one discipleship appears to be too time-consuming, energy consuming, and inefficient.
As a result of these myths and problems, 70 percent of church-going Christians are disconnected. They show up on Sunday for inspiration or out of a sense of obligation but they hardly serve, give, seek the Lord or cooperate with the Holy Spirit to grow in Christlikeness. And they will not come to know the joy that surpasses understanding until they connect with the body of Christ.
Research clearly shows why the church in North America is dying: disconnected congregants stop giving and eventually leave. A 2008 survey by the Center on Philanthropy at Indiana University found that of the 38 percent of people in the survey who ended their support to at least one non-profit organization in the prior year, nearly 60 percent said they did so because they felt disconnected from the group. An online survey by Crosswalk.com recently concluded that 34 percent of people who attend church leave because of a lack of personal connections there and 53 percent agree that the primary reason they currently attend a place of worship is because of the friendships (i.e. connection) they've established.
From our research and experience as leadership and engagement experts who work with churches, businesses and government organizations, we know that the solution to struggling churches is both spiritual and systemic in nature. Churches flourish when people connect with God through Jesus Christ, with one another in Christian community, and with their calling of servanthood. A simple way to remember this is connection with Christ, community and calling. This creates what we've referred to as a "Connection Culture." When these connections are in place it develops a holistic, transformational, disciple-making church community that mobilizes people to serve in the Spirit. It creates the church that Jesus said "all the powers of hell would not overcome" (Matthew 16:18). A church that develops a Connection Culture will find its staff fired up, not burned out, because people in the community are praying, growing, serving and giving.
Last year, I (Michael) went to visit one of the world's leading churches and it was evident that connection is everywhere. Holy Trinity Brompton ("HTB" for short), an Anglican parish in London, is flourishing. As I observed the congregation and attended services, spoke with past and current congregants, and met with church leaders, it was clear that at the core of HTB you will find that people connect with Christ, community and calling. HTB is expanding into satellite church buildings owned by the Church of England in the greater London area that would otherwise be in danger of closing or have already been shuttered due to dwindling congregations. In addition to multi-site growth, HTB plants a new church nearly every month and aims to ramp up to planting 20 new churches a year. To train pastors, church leaders, and laypeople, HTB established a theological college, St. Paul's Theological Centre. To train worship leaders, HTB launched Worship Central Academy last September.
Recently on Pastors / Leadership
Have something to say about this article? Leave your comment via Facebook below!
advertise with us
Example: "Gen 1:1" "John 3" "Moses" "trust"
Advanced Search
Listen to Your Favorite Pastors