Pulling Back the Curtain: God As He Longs For You to See Him
Chip Ingram
Wednesday, June 14, 2006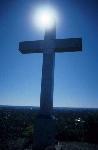 "What comes into our minds when we think about God is the most important thing about us."  —A. W. Tozer
I was frustrated, but I wasn't quite sure why. I had taught God's Word for over 20 years on college campuses, at schools, and in local churches, and I had never had this problem before. My mind simply wasn't "clicking."
The thoughts weren't coming like they used to. I found myself stopping to reread my notes silently to get back into the flow of my message. My pregnant pauses were no longer to give my listeners time to reflect; they were to give me time to look at my notes and make my point.
Had I lost my gift? Was I in the beginning stages of a mental disease? I anxiously pondered all the possibilities.
Months later, while preaching on a very technical passage, I was quoting an old commentary written in extremely small print. I took my reading glasses to the pulpit with me so I could read the selection. After quoting the commentary, I glanced down at my notes. Eureka! My problem was nothing more than an inability to see my own notes clearly.
I had no idea how bad my vision was until I saw my notes clearly through my reading glasses. My mental lapses came because I was busy trying to see, not having difficulty thinking.
That's what happens to all of us in our perception of God. When we don't see Him with 20/20 vision, it distorts every other area of our lives. The problem is that we usually don't know how bad our eyesight is until we see how good it can be.
Everything in our life consciously or unconsciously comes back to one thing: who do we visualize God to be in our heart? That's the most foundational aspect of discipleship. That determines who we are and what we become.
God longs for the distance between us and Him to be bridged with intimacy. He already sees us clearly; He wants us to see Him clearly too. Throughout the Bible, God sought this kind of relationship with His people passionately.
Can we really see God just as He is?
Can we really pull back the curtain and the shroud of mystery and say, "I've seen all of God?" Yes and no.  Yes, we can know God truly; but no, we cannot know Him exhaustively. Let me explain.
The "no" part is easy to demonstrate. In Exodus 33:18-20, Moses said: "Now show me your glory." Translation? "Lord, I want to see all that you are." Notice God's response to Moses' request : "And the LORD said, 'I will cause all my goodness to pass in front of you, and I will proclaim my name, the LORD, in your presence. I will have mercy on whom I will have mercy, and I will have compassion on whom I will have compassion. But,' he said, 'you cannot see my face, for no one may see me and live.' "
So can you see all of God exhaustively? Not if you want to stay alive. You can, however, see Him to the degree He reveals Himself to you, which is as much as any of us can handle. You can receive genuine, compelling, and accurate knowledge of God.
God deeply longs for us to see Him. John 4:24 tells us that the Father is actually seeking and pursuing people to be His worshipers.
Much of the dialogue from the Last Supper in John 14 has to do with the way God has revealed Himself in Jesus. Philip finally asked Jesus point-blank, "Lord, show us the Father and that will be enough for us" (John 14:8). You can sense Jesus' frustration as He answered: "Don't you know me, Philip, even after I have been among you for such a long time? Anyone who has seen me has seen the Father. How can you say, 'Show us the Father'?" (John 14:9).
Recently on Pastors / Leadership
Have something to say about this article? Leave your comment via Facebook below!
advertise with us
Example: "Gen 1:1" "John 3" "Moses" "trust"
Advanced Search
Listen to Your Favorite Pastors