Race and Leadership Issues Among Church Trends
Paul J. Dean, Pastor, Counselor & Professor
Wednesday, January 04, 2006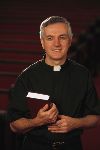 "Barna's fourth trend, which he labeled as somewhat 'invisible yet significant' is the 'changing of the guard among the leaders of the leaders.' Where the media, general public, and pastors had previously perceived Billy Graham, Adrian Rogers, Jerry Falwell, John MacArthur, Pat Robertson, Robert Schuller, and Charles Stanley to be the leading spokespersons for Christianity in the U.S., Barna showed that the leading representatives of the Christian faith now include Rick Warren and T.D. Jakes." Critical issues are raised here and this trend is alarming.
While the old guard isn't perfect (Schuller cannot even be counted as evangelical), regardless of theological differences here and there, and allowing for some unorthodox statements made by a couple of those individuals (in their old age), these men with the noted exceptions have been committed to Scriptural authority. With the passing of Rogers and a changing of the guard, one would like to see the weaknesses eliminated and the strengths shored up.

Looking at the new leadership, on balance, the pool of truth is diluted even more. One is now swimming in the dangerous waters of ecumenicalism and pop psychology while missing opportunities to set forth the gospel in plain terms in major pagan contexts, and the other cannot be considered evangelical (unless he's changed his position recently, Jakes is a modalist).
A need exists for those evangelical leaders who are respected in academic or smaller circles to make some inroads into those circles which are more popular. We do not advocate a watering down of the truth. But, if MacArthur has figured out how to make those inroads, maybe he could serve as a guide. Wouldn't it be great to hear the typical Christian speak about Mohler, Dever, Duncan, and Packer to name a few?
Church leaders must work hard to focus on children's ministry, family ministry, and prayer, critical issues which are being neglected today. New technologies may be used for the glory of God as long as the medium does not overtake, overpower, or overshadow the message of the gospel and the worship of Almighty God. The demise of the black church community must somehow be halted and reversed. A commitment to church attendance, bible knowledge, faith prioritization, and the church as primary in terms of relationships and support must be regained.

Further, sound and respected evangelical leaders must gain inroads into the popular consciousness. If these necessities are not realized, then attendance may very well still be high, but it will still be spiritually insignificant. Of course, with a continuing decline in true religion, attendance is sure to follow at some point as well. This too is significant in that the insignificance of false spirituality will then be visible for all to see.


Sign up free for "Christian News and Views," a weekly e-mail newsletter highlighting relevant news stories affecting Christians. An editorial by Dr. Dean is included as well as a link to his comments on selected stories. The e-newsletter goes out each Friday and is sponsored by "Calling for Truth," a daily, live, call-in radio program co-hosted by Dr. Dean and Kevin Boling. Simply e-mail us at pauldeanjr@juno.com to receive your first issue this Friday. To listen live to "Calling for Truth" each day from 1:00 pm to 2:00 pm eastern time, go to www.christiantalk660.com and click on the "Listen Online" button.
Click here for Part One
Click here for Part Two

Recently on Church Matters
Have something to say about this article? Leave your comment via Facebook below!
advertise with us
Example: "Gen 1:1" "John 3" "Moses" "trust"
Advanced Search
Listen to Your Favorite Pastors