Shopping with Jesus: Countering Consumerized Christianity
Jim Miller, Youthworker Journal
Friday, November 25, 2005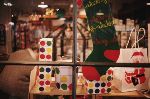 If I scold my students for wasting money, they sneak into back alley Banana Republics and dimly lit Old Navys and spend it without my supervision. But when we spend it together, we think together. I can assure them that their net worth isn't the same as their self worth, that their value isn't determined by their valuables. Thus the secular world of spending becomes sacred.
John Wesley left us an aphorism in his sermon, "The Use of Money," which should be embroidered on the inside of every wallet and purse. It destroys the line between secular and sacred in the realm of money. He proclaimed, "Gain all you can, save all you can, give all you can."
Awakening World Views
The youth worker's primary role is photographer. It's not that we are to collect 4 x 6 glossies so the students can "ooh and ah" over our last retreat. The cameras that we use are the hearts of our kids. We carry these cameras to the ends of the earth to see things that they wouldn't otherwise see. And the pictures that we take will stay on their hearts for the rest of their lives. By showing them the world, we awaken their awareness of their worldviews.
Pastoring in one of the wealthiest cities in the country, Rancho Palos Verdes, CA, I learned the art of wrestling mammon. In a city where the average per capita income was nearly $100,000 (LAInsider.com), there were clear barriers through which to work. I lived in a neighboring (and more affordable) city, and while I had a nice apartment in a decent community, there were problems. One family wouldn't let their teen come to my house because of recent gang activity in my town. There was no way to declare a frontal assault on wealth when my students were protected by it like a shell on a snail. Showing a video of Tony Campolo declaring, "Repent of your BMWs!" only sent a couple of girls home crying because their parents actually did own BMWs. It didn't change their hearts, and no one sold their car. So I used pastoral jujitsu to address such extraordinary wealth in a sneakier way.
Rather than attack the hard shell of money under which the youth safely hid, I let their compassion grow from inside the shell until it broke through. I just awakened their world views. The May/June 2001 issue of Youthworker captured the essence of Short-Term Missions, their advantages and pitfalls. For our group, the primary advantage of building houses in Mexico each year was that it created an itch in the hearts of our kids. They couldn't drive around in sports cars or pick their private schools without thinking of Juan Hernandez, age 7, happily eating tortillas and beans for dinner in a new home which had no running water or electricity. After that I didn't need to declare war on materialism from the outside. My students' hearts did it from the inside.
Alon Banks, Development Manager for Amor Ministries, sees this happen year round. Amor Ministries works on the Mexican border to provide housing for families in need. In the year 2000, Amor constructed over 900 homes with the help of youth groups from around the world. "For some students, this is something you only see on TV," says Banks. "It opens up your eyes to the disparity." The experience can be shocking. "One girl literally broke down in tears on the drive to the camp site and refused to get out of the vehicle for a couple of hours."
He says that some kids have gone on to become career missionaries after taking part in Amor projects. "Another girl became a nurse and went to work with Mother Theresa. She apparently apologized for not coming back to work with Amor," he laughed. Banks is clear about the effect such trips can have on kids. "They will go home and realize they can make a difference. They won't complain about taking out the trash anymore because they realize they have a place to take it to."
Recently on Pastors / Leadership
Have something to say about this article? Leave your comment via Facebook below!
advertise with us
Example: "Gen 1:1" "John 3" "Moses" "trust"
Advanced Search
Listen to Your Favorite Pastors