"Soul" Searching in Deuteronomy 6:5: A Hebrew Word Study without Hebrew
Andrew B. Perrin, Contributor to Bible Study Magazine
Friday, August 13, 2010

At this stage we already see that nephesh in the Old Testament is a diverse term touching the many facets of life and living.
By narrowing the scope of our study and focusing on the distinct features of the occurrences of nephesh in Deuteronomy, we see that the term has special significance in light of Israel's conduct and relationship with God. While Deuteronomy often uses nephesh to simply denote existence (Deut 12:23) or desire (Deut 14:26), the word is afforded a unique nuance that extends the spectrum of meanings provided above. Of the 35 occurrences in Deuteronomy, nephesh appears in close proximity with the word "heart" 11 times. This consistent pairing is seen most often in the phrase "with all your heart and all your soul" referring to the diligence and commitment the Israelites were to exhibit towards God's laws (compare Deut 10:12).
With the broader palette of Old Testament usage, as well as the unique coloring of nephesh (שׁפנ) in Deuteronomy in mind, we can now return to the beginning of our investigation and examine Deut 6:5 once again.
Nephesh is often used to denote:
The very essence of existence (Gen 2:7) which departs at death (Gen 35:18; 1 Kgs 19:10).
The seat of human emotion and/or desire (Psa 35:25; Song 1:7; Ezek 24:25).
The organs, or physical actions, associated with breathing (Ps 105:18; Job 41:21; Isa 5:14).
STEP 4: Revisit the Passage to Find the Meaning of the Word in Context.
Our study has shown us that the English translation "soul," especially when paired with "heart," is ambiguous and lacks the precision required for an accurate interpretation of Deut 6:5. In this context nephesh is primarily a synonym for life and is distinct from other words such as "heart" (lev) that is closely associated with the mind rather than emotion. Instead of understanding "soul" as the immaterial spiritual component of a person, this concise understanding better conveys the passage's call for an all-encompassing and lived-out devotion to God.
Notes:
¹A lexicon is an in-depth dictionary about a specific corpus of writings. Because of this, lexicons contain more lengthy and detailed entries than dictionaries.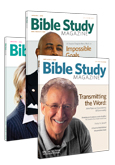 Article courtesy of bible study magazine published by logos bible software. Each issue of Bible Study Magazine provides tools and methods for Bible study as well as insights from people like John Piper, Beth Moore, Mark Driscoll, Kay Arthur, Randy Alcorn, John MacArthur, Barry Black, and more. More information is available at http://www.biblestudymagazine.com. Originally published in print (1-2-09): pp. 35-36: Copyright Bible Study Magazine.
Recently on Pastors / Leadership
Have something to say about this article? Leave your comment via Facebook below!
advertise with us
Example: "Gen 1:1" "John 3" "Moses" "trust"
Advanced Search
Listen to Your Favorite Pastors