Spiritual Priorities for a Significant Church
David Soberepena, Global Pastors Network
Monday, July 12, 2004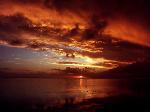 After a few more days in the Philippines, I returned to Dallas arriving late at night (and so avoiding a long debriefing with my wife). The following day I called her at work and told her I would like to take her out to lunch--so we went to the best Chinese restaurant in town. I told her all about the meetings in the Philippines, but not the heavy part about our returning. The next day I did the same thing. We went to another very nice restaurant for lunch where I talked with her about our commitment to the Lord--but still no return-to-Manila discussion. The third day, when we were waiting to be seated for lunch in a nice steak house, she cornered me: "What are you doing? You've never taken me out to lunch three days in a row! What do you want?" I finally had to come clean: "Honey, God is speaking to us about going back to the Philippines." I can't tell you what she said, but I will tell you that God worked a miracle in her heart.
With my wife's agreement, we began taking steps to move. The Dallas real estate market was soft, so I asked our mortgage holder if they would buy our house for what we owed on it, and they jumped at the chance. I signed the papers on the spot and promised him the keys in five days. We had a missions auction of all the stuff we had collected over the years we didn't really need, and what we didn't sell we took to the Salvation Army. My wife and I left our two younger children in Seattle with family and took our oldest son with us to Manila to start a church in the theatre.
When I arrived in Manila I went immediately to the theatre owner and signed the contract. We built a huge platform, added new wiring, printed thousands of flyers to distribute at the mall across the street, and began advertising the opening of the church on three radio stations, eight times a day, for two-and-a-half weeks. And the rest, as they say, is history. Today the Word of Hope Church (remember the burden God gave me that night while watching CNN? "Take the message of hope to your people.") has over 13,000 members and we see 50-55 people every week give their lives to Christ. In our main sanctuary we have five services on Sunday and one on Saturday, plus Sunday services in eight other facilities we rent.
We returned to the Philippines to win the lost. Evangelism is the most important task of every Christian, of every church. Jesus came to seek and save the lost (Luke 19:10) which is the work closest to the heart of God. Churches of significance will not be significant because of their size or their budgets or their staff. They will be significant if they win the lost to Christ.
Demonstrate Compassion Toward the Destitute
"Loving the unlovable" is another way to say "demonstrate compassion to the destitute." Love those who have no way to return anything to you. In Matthew 25:35-36 Jesus said, "'For I was hungry and you gave me something to eat, I was thirsty and you gave me something to drink, I was a stranger and you invited me in, I needed clothes and you clothed me, I was sick and you looked after me, I was in prison and you came to visit me.'"
Recently on Pastors / Leadership
Have something to say about this article? Leave your comment via Facebook below!
advertise with us
Example: "Gen 1:1" "John 3" "Moses" "trust"
Advanced Search
Listen to Your Favorite Pastors