Spiritual Priorities for a Significant Church
David Soberepena, Global Pastors Network
Monday, July 12, 2004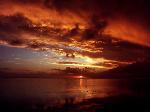 6. What investments does your church make in the lives of those who will never be able to repay what they are given? What is your personal response to those you meet on the street seeking help or a handout? Explain why you respond to them in whatever way you do.
7. What is your personal view of the cell group ministry that many churches have adopted? Is it biblical? A passing fad? What does your church do besides/instead of cell groups to fulfill the mandate of Hebrews 10:24-25?
8. If a pollster asked the members of your church whether lay leadership is encouraged or strengthened in your church, how would they respond? What evidence is there to support the answer you think they would give?
9. What degree of freedom does the Holy Spirit have in your church to change the order of worship on Sunday morning without prior notice? How would you judge whether a "non-scheduled" event on Sunday morning was God or not?
10. What is the riskiest thing you have ever done in ministry--a time when you stepped out of the boat onto rough water and began walking? What advice would you give to a protégé regarding such risk taking--how to know whether Jesus has bid you come to Him or not?
Possible Callout Statements:
1. The person who expects to have a completed house to live in tomorrow must lay a foundation for that house today.
2. We need to live our lives in a constant state of preparation for that which God wants to do through us.
3. I was struck that day that if God wanted to do greater things through me than what He had done, I had to prepare myself spiritually in a greater way than I had up to that point.
4. The person I was that day had been sufficient for what God had done but would not be sufficient for what He was going to do.
5. At that moment, I lacked two things that make the knees of any pastor tremble: I had no money, and I hadn't asked my wife!
6. Churches of significance will not be significant because of their size or their budgets or their staff. They will be significant if they win the lost to Christ.
7. "When you preach a sermon to a hungry man, make sure you wrap that sermon in a sandwich." General William Booth, founder of the Salvation Army
Recently on Pastors / Leadership
Have something to say about this article? Leave your comment via Facebook below!
advertise with us
Example: "Gen 1:1" "John 3" "Moses" "trust"
Advanced Search
Listen to Your Favorite Pastors