Study Habits of Great Men
Robert Vincent, Today's Christian Preacher Magazine
Monday, August 22, 2005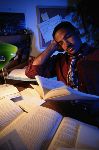 3. Studying with a pen in hand increased the profitability of their studies. Often these men wrote simply to clarify and organize their own thinking. Jonathan Edwards (1703–1758) gave much of his time to conscientious, systematic Bible study, piecing together the grand themes of Scripture and harvesting them into well-organized notebooks filled with his ongoing studies. Edwards aimed to understand the Scripture accurately and to use it to discern how and what God was doing in his generation that might contribute to His grand work of redemption. As he read, prayed, and even rode horseback, he was ready to write. He kept a pen handy to record helpful insights and reflections that grew out of his meditations.

4. Some topics of Bible study took much longer than others. Bible themes often demanded long exposure before their significance and breadth were truly grasped. G. Campbell Morgan (1863–1945) diligently read through books of the Bible dozens of times before beginning to teach them. As often as possible, he attempted to read through a book in a single setting so that he captured and retained a sense of the book's contextual thrust and its timeless message.

5. Bible study and devotional reading, though interrelated, were not considered synonymous. Preachers who took time to feed personally on their Bibles apart from the more professional forms of Bible study reflected a teachable, humble spirit sometimes absent in those who only studied the Bible professionally. "Forget sometimes, in the name of Jesus Christ, the pulpit, the mission-room, the Bible class; open the Bible as simply as if you were on Crusoe's island" (H. C. G. Moule, To My Younger Brethren, p. 41).

6. Bible study and pastoral ministry were not mutually exclusive. Many kept the faces and needs of their church people in view while hovering over the Scripture, thus motivating their study of the Scriptures.

7. Gleaning the fruit of others' study was personally enriching and often stimulated further Bible study.
The most inspirational description I have heard from a modern preacher about the ministry came from James Stalker of Scotland (1848–1927) during an ordination sermon:
I like to think of the minister as only one of the congregation set apart by the rest for a particular purpose. They say to him: Look, brother, we are busy with our daily toils, and confused with cares, but we eagerly long for peace and light to illuminate our life, and we have heard there is a land where these are to be found, a land of repose and joy, full of thoughts that breathe and words that burn, but we cannot go thither ourselves.

We are too embroiled in daily cares. Come, we will elect you, and set you free from toil, and you shall go thither for us, and week by week trade with that land and bring us its treasures and its spoils (Alexander Gammie, Preachers I Have Heard, pp. 44–45).
Indeed, it is our glorious task to "week by week trade with that land and bring [our people] its treasures and its spoils." Paul established the biblical standard for us. God has enabled many who have preceded us to be faithful to that calling in the quiet of their studies. May the Lord enable our generation of preachers to be faithful in this vital aspect of our holy calling so that we will be well pleasing to the One Who put us into the ministry (II Corinthians 5:9).
Robert Vincent is an assistant pastor at Mount Calvary Baptist Church in Greenville, South Carolina. He also teaches Church History at Bob Jones University Seminary.

Today's Christian Preacher is the magazine for those involved in ministry and those training for ministry service who live in the United States. TCP won't help you preach a better sermon or build a larger ministry. It will help you in your personal life. For more information, call 1-800-588-7744.

© Right Ideas, Inc., 2005,  www.rightideas.us



Recently on Pastors / Leadership
Have something to say about this article? Leave your comment via Facebook below!
advertise with us
Example: "Gen 1:1" "John 3" "Moses" "trust"
Advanced Search
Listen to Your Favorite Pastors