Naming the World: Stories of Redemption Across the Globe
Adam Rowe, WORLD News Service
Friday, July 13, 2012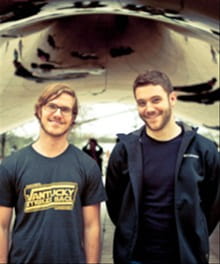 (WNS)--The mass media's foreign reports often reduce real people and real situations to stereotypes and pithy summations designed to tug heartstrings. Each report contains a kernel of truth, but it filters though in a condensed or warped form. Journalists and missionaries Andrew Nicodem and Ryan Gilles hope to counteract this distortion by putting names and faces to people experiencing God's redemption as they struggle for justice, dignity and life around the world.
Their 15-month trip will take them to 10 different cities.
Nicodem and Gilles didn't meet in person until just a few months before they boarded flights for Greece, but they got the idea for their trip years earlier, when both men spent time overseas. Ryan, in Zambia, and Andrew, in Israel, met people working for the church and knew they had stories to tell.
"We both came away with the strong feeling that these were the kinds of stories that need to be told, the kinds of stories that encourage, inspire, and bring about action," Gilles said.
But another year passed before either made a move to do something about it. Nicodem worked as a middle school English and history teacher at a classical Christian school, in Naperville, Ill.. Gilles finished his political journalism degree at Patrick Henry College, in Purcellville, Va., while writing for a Washington-based foreign policy analysis website.
Nicodem began planning the Naming the World project after discussing it with Scott Olson, the president of the Chicago-based mission organization International Teams (ITeams). Olson immediately connected with Nicodem's vision. When Gilles heard about the project through a friend, he knew he wanted to join the work.
The project's goal is two-fold. The men must first tangibly serve the ministry team they partner with at each stop. Secondly, they will document stories of God at work in the ministry, with the goal of encouraging, inspiring, and challenging others. Readers can follow their progress through their blog, namingtheworld.org.
Nicodem and Gilles, who left the U.S. in early May, spent a month at the Athens Refugee Center, in Greece, where they profiled refugees living in poverty and spent four hours in prison after being arrested for not having their passports with them. Now, they're in France, staying at the Champfleuri sanctuary, a youth and church camp facility near the Swiss border.
Gilles, speaking for both men, took a break from interviewing to answer a few questions for World on Campus.
Why did you choose "Naming the World" as the title of your project?
"The title "Naming the World" comes out of our heart's desire for this project: to encourage, challenge, and inspire others by sharing the names, the faces, and the stories where God is at work around the world. Some might read it as a pretentious statement, that we think we have the audacity to name the world. But in fact, it's exactly the opposite! Our goal is to highlight those who go unheard; those who have a beautiful, name, face, and story because of their loving Creator. We are simply striving to give those names, faces, and stories their "beautiful due," to quote one of Andrew's favorite authors, John Updike."
How were you able to able to serve while in Athens? What plans do you have for the upcoming month?
"I think the way we serve in each different location will vary a lot. And honestly I find that exciting. In Athens, we were able to dive in with the team in very practical, tangible ways: helping prepare meals for refugees, cleaning, playing with the kids while the adults listened to a Bible lesson, etc. Here in Grenoble, it is a far more relationship-based ministry, meaning we've done a mix of serving physically and more relationally. The latter often comes down to simply spending time with people and striving to invest in them, whether they are students, local pastors and missionaries, or gypsies from one of the nearby camps.
Recently on Pastors / Leadership
Have something to say about this article? Leave your comment via Facebook below!
advertise with us
Example: "Gen 1:1" "John 3" "Moses" "trust"
Advanced Search
Listen to Your Favorite Pastors