Naming the World: Stories of Redemption Across the Globe
Adam Rowe, WORLD News Service
Friday, July 13, 2012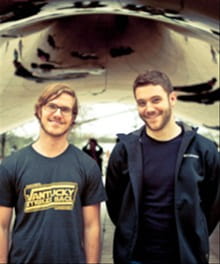 Our plan right now is to travel to Romania from mid-July through mid-August, working with International Teams workers in a ministry to the many poor and the refugees in the country. In September we will be in Spain, spending some time traveling El Camino Santiago in the northern part of the country. It is known as a very spiritual journey for many sojourners and our goal will be to build relationships with and minister to those we meet on the trail. Once we arrive in Santiago, we plan to spend some time working with a new ITeams ministry there to the many travelers that flood the city."
What's a typical day on your mission? What's the biggest change you've had to adapt to?
"I'm not sure there is any such thing as a "typical day" on this project. But the one thing that will be the same in each place we visit is the need to guard certain days for writing and photo editing: basically the behind-the-scenes work. I think we have felt the tension already between wanting to put our hands to work and tangibly serve, but also knowing that we need time to pull away and actually put down all that we've seen into words and pictures. That takes time and I think it will be hard all throughout this project to decide how much time to devote to each part."
How does your work fit into the larger mission of the church?
"We really believe that stories have power. And we believe that the most powerful stories of all are those that tell of God's redemptive work in people's lives. While studying journalism in college, I so often got tired of reading stories only full of pain, suffering, injustice. Stories completely devoid of God. I guess I began to ask myself why more people weren't telling the stories of redemption and hope through Christ. I think we as the Church sometime forget what an incredible God we serve because we don't realize how He is constantly at work in every corner of the world. I think it's vital that the Church not miss the beautiful work of our Savior all around us.
Our hope is that believers in the Church are encouraged and inspired in their faith as they read these stories. We also hope they are challenged on two fronts: first to get on their knees and pray, and second to ask the Lord how He wants to put them to work for His Kingdom."
How are you working to increase readers and viewers for your work?
"We believe that these are the kinds of stories worth telling, and thus we hope that as many people as possible have the chance to read them! We're using Facebook to let people know when new posts go up and we encourage people to share anything they want with friends. International Teams is also using portions of our work on their website for ministry updates."
Is there one particular place you plan to travel in the next 15 months that you think is more important or most important for people to be aware of?
"I don't think it's possible to say one place or one issue is more important than another. Actually I think that is one of the notions we are trying to work against. When people think of need and oppression, they probably think of orphans in Africa or human trafficking. Those are certainly examples of very real oppression, but I believe that oppression exists just as much in affluent neighborhoods of southern France, for example. It is simply a different kind of oppression, a different kind of darkness and I think we get in trouble when we start saying that combating physical oppression ought to be our main concern. We've seen a very real spiritual darkness here in France and we want people to be praying for the deep spiritual needs in the first world as much as they pray for the physical needs of so many in the third-world and beyond.
Recently on Pastors / Leadership
Have something to say about this article? Leave your comment via Facebook below!
advertise with us
Example: "Gen 1:1" "John 3" "Moses" "trust"
Advanced Search
Listen to Your Favorite Pastors