The Jesus We Missed
Kelly Givens, Contributing Editor to Crosswalk.com
Monday, July 23, 2012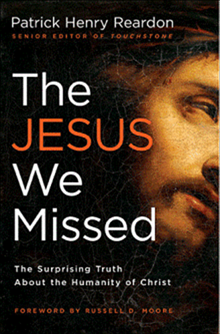 As children, some of the first questions we ask about Jesus tend to relate to his humanity. "Did Jesus get sick?" "Did Jesus ever tell a joke?" "Did Jesus ever pass gas?" To which our Sunday school teacher or parent would give us a stern look and remind us not to ask inappropriate questions.
But, are these questions truly inappropriate? Our questions about Jesus' humanity—and the answers we give—often showcase our struggle with the Biblical concept of God Incarnate. What does it mean that Jesus was fully human, while still being fully God?
This is the question Father Patrick Reardon explores in The Jesus We Missed: The Surprising Truth About the Humanity of Jesus. Let's make clear right away what this book isn't, for many readers may pick up Reardon's book expecting one thing, only to get another. First, Reardon is not writing anything groundbreaking. In fact, he comes right out and says it: "Even though this is a new book, I truly hope to say nothing new!" This is not a volume whose purpose is to reveal a new angle on Jesus' life, nor is it meant to be read as a devotional. For those interested in that kind of study, I would recommend Tim Keller's King's Cross orJohn Piper's Seeing and Savoring Jesus Christ as better alternatives.
Instead, Reardon's approach is an academic, nuanced, systematic look at the life of Jesus on earth. He works through the life of Jesus chronologically, paralleling the Gospels in order to flesh out a rich Christology. Readers are given an in-depth account of how Jesus' humanity impacted all areas of his life and ministry; from his childhood, baptism and start of his ministry, to his prayer life and eventual death, resurrection and ascension. For example, Reardon begins his book by taking us through Jesus' life as a child, exploring what it would have been like for Jesus to study and learn from Scripture. Reardon reminds us that as a son of devout Jewish parents, Jesus would have spent considerable time in the synagogue. But what impact did this have on Jesus? While we might assume Jesus was born with all of Scripture memorized and that time studying it would have been inconsequential, Reardon thinks differently:
"Jesus was not "working out" a religious theory. He was taking possession of his own identity. This was a process of growth, and Jesus' study of the Hebrew Scriptures was integral to that growth. He didread all the books, and he learnedfrom them. The works of Moses, David, Jeremiah, and the others truly contoured his mind and conscience."
Reardon spends considerable time describing how Jesus grew into his role as Messiah. That is not to say that Jesus was any more or less the Messiah from his birth to his death on the cross and resurrection. Rather, Reardon spends a good deal of the book explaining how Christ's humanity necessarily limited him. As he puts it:
The traditional Christology of the Christian church holds that in Jesus there was only one person, a single center of subjectivity. That is to say, Jesus did not sometimes think as human and sometimes as divine. Everything that he knew, he knew through human experience, no matter how refined, elevated, and unique. All his "thinking" took place in a human brain at the service of a human intellect, because Jesus was (and is) God's Son enfleshed in a human condition."
I was surprised at how much this made sense, yet, many Christians, myself included, struggle with this concept. How could it be that Jesus was limited in his knowledge and power? He was part of the Trinity, still the Son of God! Yet, the Gospels make it clear that there were restrictions to Jesus' body and mind. As Reardon notes:
Recently on Pastors / Leadership
Have something to say about this article? Leave your comment via Facebook below!
advertise with us
Example: "Gen 1:1" "John 3" "Moses" "trust"
Advanced Search
Listen to Your Favorite Pastors