The Year's Best Preaching Books and the 2010 Preaching Book of the Year
Michael Duduit, Executive Editor, Preaching Magazine
Friday, February 05, 2010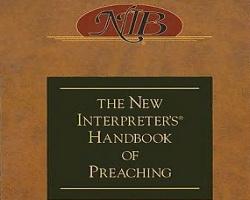 According to T. David Gordon, "less than 30 percent of those who are ordained to the Christian ministry can preach an even mediocre sermon." That may be the nicest thing he has to say about today's preaching in his brief book Why Johnny Can't Preach (P&R).

Gordon's concern is not that there may or may not be "great" preachers around, but that "the average Christian family in the average pew in the average church on the average Sunday" is being starved. He observes, "If Jesus tests Peter's profession of love by the ministerial act of feeding his sheep, our sheep do not need gourmet meals. But they do need good, solid nourishment, and they are not ordinarily getting it."

The problem, Gordon argues, is not that preachers are lazy or that seminaries haven't done their job, although some may question that latter assumption in many cases; but that shifts in "culturally dominant media" (the movement from a text-based to an image-based culture) have altered our society and the way we think.

Too often preaching is done with technical competence but without the passion and depth that comes from meaningful tine spent with God and His Word. In Deep Preaching (B&H Books), Kent Edwards reminds us why we preach and offers powerful insights about developing and preaching sermons that go far beyond the superficial.

In Deep Preaching, Edwards offers preachers practical counsel for digging deeper as they proclaim God's Word. This book is less about preaching methodology than about an attitude of openness to the Spirit of God as the Source and Guide, as he reminds us the power of the sermon ultimately depends on the work of the Holy Spirit.
In How Effective Sermons Begin (Mentor), Ben Awbrey does a solid job of identifying the importance of sermon introductions and explaining how to use introductions to engage the congregation, establish the purpose of the sermon and establishing the context of the passage through orientation, summarization and connection. There is a lengthy and detailed discussion of the development of the sermon proposition, which Awbrey sees as an essential part of the introduction.

At times the book reads more like a seminary text than a book for pastors, but preachers at any level of experience will find How Effective Sermons Begin offers practical guidance for helping sermons make that all-important positive first impression.
R. Albert Mohler is the author of He Is Not Silent: Preaching in a Postmodern World. (Moody Press). Expressing his concern that "dangerous trends and many popular examples threaten to undermine the centrality of biblical exposition in evangelical pulpits around the world," R. Albert Mohler argues for a renewal of expository preaching that faithfully confronts congregations with the Word of God in this new book.

Mohler writes as a theologian and president of one of the nation's largest seminaries, but also as one who regularly preaches and has a significant interest in the subject. (He served as associate editor of Preaching from its founding until assuming the presidency of Southern Baptist Theological Seminary in Louisville, Kentucky.) In He Is Not Silent, Mohler calls on preachers to avoid contemporary trends which would sidetrack them from their primary focus of reading and explaining the biblical text to their listeners.

He Is Not Silent is a powerful argument for the importance of biblical exposition in today's pulpits. It will provide a nourishing and encouraging reminder of the glory of our call and the urgency of our task.

Recently on Pastors / Leadership
Have something to say about this article? Leave your comment via Facebook below!
advertise with us
Example: "Gen 1:1" "John 3" "Moses" "trust"
Advanced Search
Listen to Your Favorite Pastors