Trends Reshaping the American Church, Part I
Paul J. Dean, Pastor, Counselor & Professor
Friday, December 30, 2005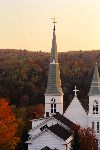 Four key trends in the church should be noted according to the Barna Group. "Ignoring reporters' questions about church growth figures by stating, 'church attendance is grossly overrated as a measure of anything that is spiritually significant,' researcher George Barna instead offered four factors that he described as indicative of the reshaping of the church in the U.S."
Of course, the statement that "church attendance is grossly overrated as a measure of anything that is spiritually significant" is extremely significant. Long have we been told by church growth proponents that attendance is the be all to end all. It has been attendance that defines successful ministries, launches pastors to positions of prominence and leadership, and drives seminars on "how to do it like we do." It is refreshing to hear Barna speak of that which is spiritually significant and look beyond the surface issue of attendance.
Scripture does indeed place a great deal of emphasis upon numbers, especially in the book of Acts. Yet, the more pressing concern in Acts is the saving work of God in those who attend as opposed to an emphasis on a high attendance of pretenders. The spiritual condition of all churches with large numbers of attendees is not being called into question with that statement. Rather, one might call into question the spiritual condition of those churches with large numbers of attendees who engage in manipulative evangelistic methodology, who are largely man-centered in their approach to ministry and worship, and who forsake church discipline. At the same time, no church is perfect, large or small. Therefore each church must be viewed on its own rather than lumped in with any group.
Having dispensed with introductory comments, Barna's conclusions concerning key trends may be highlighted. "The first of those patterns had to do with the priorities embraced by church leaders, in which most local churches essentially ignore three critical spiritual dimensions: ministry to children, ministry to families, and prayer." Certainly these areas of ministry are critical.
Regarding children, it appears to me that too often we seem to assume that they are saved by virtue of the fact they are raised in the church and make the required profession of faith. Yet, approximately 80 percent of those children fall away when they hit college. We must minister to them and in such a way that they are confronted with and equipped to defend a biblical worldview.
At the same time in my estimation, the issue of family ministry has largely been ignored in the sense that church is viewed as that dynamic at which we get our spiritual fix so that we might then return to our normal activities for a week or so. But biblically speaking, the father is a prophet, priest, and king in his own home. Churches must equip him to be such that he might minister effectively to his own family.

When families come to church these days, they are separated into various groups that they might ostensibly receive specialized instruction. Perhaps if the whole family received ministry as a family with an emphasis upon the family unit, then families would understand their roles in relation to one another and view it as quite normal that the family would come together for times of worship and devotion, even at home. The divide and conquer approach to family ministry seems to be working: our families are being divided and conquered.
Recently on Pastors / Leadership
Have something to say about this article? Leave your comment via Facebook below!
advertise with us
Example: "Gen 1:1" "John 3" "Moses" "trust"
Advanced Search
Listen to Your Favorite Pastors