What Church Leaders Should Know about Depression
Mike Vlach
Wednesday, March 02, 2005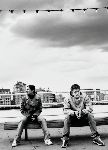 How did you become interested in helping people with depression?

Clinical depression was a problem I knew little about until I found myself sitting at the bottom of a deep, dark pit, with no idea how I had gotten there and no hope of escape. I had always been strong and driven to excel, with little sympathy for those who battled depression or "the blues" as I arrogantly referred to this illness. My two favorite encouragements for these "weak" people were "Get over it!" and "Just deal with it and go on, for crying out loud!"

But in the spring of 1995, I - the strong one - could not get out of bed.  If I managed to be dressed by the time my two children got home from school, it was a good day. The simplest decision sent me into a panic. The great wisdom-giver could not compile a grocery list.  The woman who taught hundreds and even thousands of women couldn't bring herself to face crowds of any size. The large tasks of life were out of the question and even the simplest tasks seemed like huge mountains.  I was paralyzed. 

My journey from the darkness into the light was a long, lonely struggle.  We were created for the light.  We do not have to stay in the pit or remain prisoners of the darkness.  We are not alone.  But it certainly felt that way to me. With every step I promised God that when I reached the light, I would tell my story.  God did not give me an interest in helping those who battle depression.  He gave me a passion and a message of hope that I must share.

How big of a problem is depression in our society?

The world today knows depression as a health problem.  As a matter of fact, depression is America's number one health problem.  Studies indicate that as many as half of all women and one out of three men struggle with depression on a regular basis. I think we can safely say that almost everyone either experiences depression or knows someone who will at some point in life.

Do church leaders need to be concerned about depression in their churches?

Absolutely!  Jesus was!  As a matter of fact, the Bible is filled with accounts of those who battled the darkness of depression. Job longed for death and even questioned why he was ever born.  Elijah sat under a juniper tree begging God to let him die. The great apostle Paul writes in his second letter to the Corinthians:  "We were under great pressure, far beyond our ability to endure, so that we despaired even of life."  On the night before He was crucified, Jesus felt abandoned and totally alone.  It must have seemed like He had fallen into a deep, dark pit from which there was no escape. These accounts are included in God's love letter to us for a very important reason; we need to be concerned about the things that concern Jesus.  He is Light and stands against darkness of any kind.  We are called to do the same.

What should church leaders know about depression?

This question is especially important to me because when the bottom fell out of life my husband - Dan - was the pastor of Flamingo Road Church in Fort Lauderdale, Florida.  I was the pastor's wife, director of the women's ministry and a highly visible leader in the church and community.  Neither Dan nor I knew how to navigate the unfamiliar waters of depression.  It was foreign land and we had never been there before.  There were many lessons to learn and share. 

Recently on Pastors / Leadership
Have something to say about this article? Leave your comment via Facebook below!
advertise with us
Example: "Gen 1:1" "John 3" "Moses" "trust"
Advanced Search
Listen to Your Favorite Pastors