What Does it Mean to Take Up Our Cross?
Dr. Bill Lawrence, Leader Formation International
Tuesday, July 12, 2011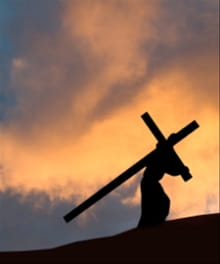 Editor's Note: This is Part Two of "On Taking Up the Cross as a Leader." Click the link for Part One.
Golgotha.
The place of the skull.
Brutal. Public. Shameful. The sound of nails being hammered through human flesh into sturdy hard wood, of cursing, shrieking, crying, and sighing, "It is finished!"
The cross stands as a jagged disfiguring scar on the horizon of history. Amazing, beyond comprehension or imagination: the creatures crucified the Creator. And now the Creator calls the creatures to take up that same cross.
Cicero, the ancient Roman writer wrote, "Let the very name of the cross be far away not only from the body of a Roman citizen, but even from his thoughts, his eyes, his ears." The Romans thought the very word cross was obscene, never to be uttered in daily conversation. Yet Jesus calls for us to take up the cross and make it our own, to bend our backs as He bent His back and take on the horrific weight of a horrible death. Why must we do this? Because taking up the cross is the only way we can deny self, the source of our distorted interests and misguided minds.
It's the self that seeks a kingdom and a crown, striving to go its own way, demanding to lead rather than follow. The self limits leaders and deceives us into seeking death rather than life, and we don't even know what's happening. No one could have been more sincere than Peter, nor more certain he was right, when he resisted the cross by rebuking Jesus, yet he was radically and painfully wrong. This self is so deceptive and destructive that it leads us into death while we think we are laying hold of life. To say no to self is to resist the most powerful force in our lives apart from the cross and the Holy Spirit. We are powerless to deny the self—we can say the words but we cannot do the actions. Even if we lock ourselves in a desert cave totally cut off from any temptation of any kind, we will still do what the self solicits. Only the cross has the power to take our "No!" to the self and make it real.
Why?
Because the cross is more than a memory or a metaphor; the cross is a reality, the expression and source of God's powerful grace poured out for all who will respond, and it remains today what it was on that awful Good Friday, the greatest demonstration ever of God's mercy and enablement. Leaders cannot lead without a conscious dependence on the cross and what it means. This is the point Jesus made so forcefully with Peter when He called His future leader "Satan" and told him to get out of His sight. At that moment He couldn't stand even the sight of Peter because he so reminded Him of Satan and the awful temptation that came from the most powerful created being in the universe, the temptation to do God's will Satan's way by becoming ruler of all without taking up the cross. What made Peter's response so heinous to Jesus? His focus, the driving force behind his actions. True, Peter rebuked Jesus out of concern for Him, but Peter was also concerned for himself. Peter was concerned that if Jesus went to the cross, he would have to as well, and if that happened he would never get the crown he believed was his because he followed Jesus.
As leaders we have the same expectation as Peter, the expectation of a crown from Jesus because we have given up all to follow Him. But it's possible that we haven't given up all and we may not even be following Jesus; we may actually be pursuing our will in Jesus' name. We have not given up our crown because we, like Peter, have set our minds on man's interests, not God's. And we do this in Jesus' name; we do this while saying we have given up all, while striving to give up all, while seeking in every way to give up all, while sincerely believing we have given up all. Yet, sooner or later, like Peter, we discover that we have set our minds on man's interests and not God's. Sooner or later we hear the echo of Jesus' analysis of Peter coming down across the ages to us, and then we hear His call to deny self, take up the cross, and follow Him.
Recently on Pastors / Leadership
Have something to say about this article? Leave your comment via Facebook below!
advertise with us
Example: "Gen 1:1" "John 3" "Moses" "trust"
Advanced Search
Listen to Your Favorite Pastors