What Does it Mean to Take Up Our Cross?
Dr. Bill Lawrence, Leader Formation International
Tuesday, July 12, 2011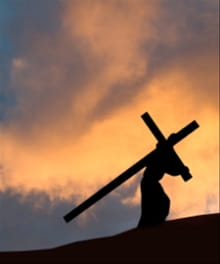 What does it mean to take up our cross? To take up the cross is to make a total radical commitment to God's will for you, to be dependent upon God's power for you, not just God's will for your life or God's will for your career or God's will for your ethics or God's will for the kind of house you buy or the kind of car you drive or what you do for your retirement or how you manage your money or what or how you do anything, as important as these things are. To take up the cross is not only about external behaviors; it is about far more than that. It is about God's will for you—about the kind of man or woman you are becoming, not only about such deeper things as how you love your mate or how you nurture your children or how you honor your parents. No, it is even more deeply about you as a person, about your interests and your expectations and all that is in your heart. Taking up the cross is a total and radical commitment to God's will for your heart and God's power to overcome its interests, expectations, and demands.
But how do we take up our cross? By following Jesus, not as a life-style, but as a death-style, as a dying to self that comes when you empty yourself, humble yourself, and sacrifice yourself. Elsewhere, when Jesus asks His disciples if they have hardened hearts (Mark 8:17), He is talking about the 'self' in them. Thus, if you wish to follow Jesus and become His kind of leader, you must empty yourself, humble yourself, and sacrifice yourself by and so take up your cross in accordance with Philippians 2:5-8.
Empty yourself
A hardened heart is a heart that looks without seeing, listens without hearing, and acts without impacting. It does so because it is full of self. Self so fills the eyes, the ears, and the hands that they are rendered useless, unable to see or hear God, and incapable of serving Him effectively. This is why we must consciously empty ourselves, even as Jesus emptied Himself. He gave up all His prerogatives, all His rights, all His unveiled glory, all the independent power that He rightfully possessed. He was God, but He emptied Himself of all that His deity gave Him, though not His deity itself. He did this consciously, freely, and fully. When He came to earth, He came totally as a man subjected to His Father's will and dependent on the Spirit's power to take up His cross.
We must do the same. We must give up all our rights, all our privileges, all our independence, and subject ourselves to the Father's will through dependence on the Spirit's power. By doing this, we take up our cross.
This does not mean as leaders that we divest ourselves of our responsibility or our authority any more than Jesus did. To the contrary, we gain our true authority and fulfill our total responsibility when we empty ourselves. When Jesus emptied Himself, He did it so He could fulfill the Father's will, which resulted in His having "all authority in heaven and on earth" (Matthew 28:19-20). Jesus exercised authority over the Pharisees and the Sadducees, over demons and the devil, even over the Romans when He yielded Himself to them for crucifixion. Jesus demonstrated an authority He could never have exercised had He not emptied Himself of all but the Father's will. So also do we when we turn from our rights and the independent exercise of our wills to what God wants us to do even though it costs us the cross. Like Jesus, we could never become who the Father wants us to be apart from the cross, and we can never take up the cross unless we empty ourselves of the deepest desires and expectations of our hearts. So we consciously and prayerfully empty ourselves, measuring ourselves by God's word and God's will, seeking daily to move progressively toward our emptiness so we can grow progressively into Christ's fullness. This demands that we humble ourselves.
Recently on Pastors / Leadership
Have something to say about this article? Leave your comment via Facebook below!
advertise with us
Example: "Gen 1:1" "John 3" "Moses" "trust"
Advanced Search
Listen to Your Favorite Pastors