What Does it Mean to Take Up Our Cross?
Dr. Bill Lawrence, Leader Formation International
Tuesday, July 12, 2011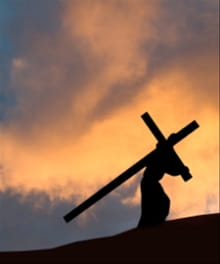 Humble yourself
For years I read Peter's words, "Humble yourself under the mighty hand of God..." (1 Peter 5:6), and asked myself how can a proud man humble himself? That statement, addressed to proud men, seemed contradictory to me. Proud men can only be humbled; a proud man cannot humble himself. Then I paid attention to a passage I had read and even taught countless times: "He humbled himself by becoming obedient unto death, even death on a cross (Phil. 2:8)." This is how Jesus took up the cross: He humbled himself by entering into God's will for Him, even while He prayed that He might not have to drink the crucifixion cup. We humble ourselves when we obey God no matter what it costs us, especially when it costs us the cross with its shame and brokenness and denial of self. He humbled himself by saying yes when He wanted to say no, by doing what God wanted Him to do even though He sweat drops of blood at the thought of what was before Him.
So humble yourself: stay where you are, say yes when you want to say no, do what God wants, listen to the criticism, endure the injustice, embrace the unfairness, take up the cross, suffer the shame—and enter into resurrection. This alone is what will make you the leader God created you to be.
Sacrifice yourself
God's will took Jesus to the cross and cost Him His life, and God's will takes us to the cross and costs us our lives as we offer ourselves as living sacrifices to our Father. Our hearts now become "altared" hearts—hearts that are placed on the altar of God in order to sacrifice our interests so we can focus on His interests. This is how we love our enemies; this is how we bless those who curse us; this is how we forgive the unfaithful; this is how we heap burning coals of fire on the heads of those who harm us. This is how we see our weakness transformed into Christ's power and glory. As leaders we all long for the power to accomplish our purpose, prove our worth, and gain our glory, and we strive constantly to achieve this. What we frequently don't understand is that our way is not God's way, that power does not come from self-assertion but from self-denial, that God's way makes no sense to us, but it's the only way to power and glory.
When we take up our cross we experience the pain of death—and this pain is real, a cup we don't want to drink. Criticism, attack, rejection, false accusations, confusion, misunderstanding—all of this and more come to us as leaders. Yet something else comes with the cross: glory, the glory of Christ's resurrection power, the glory of His presence and His enablement, of His approval and His blessing, glory we can give to Him, glory we have always been seeking, but we've looked for in all the wrong places.
To be the leader you long to be, deny yourself, take up your cross, and follow Jesus. Do what Jesus did: empty yourself, humble yourself, and sacrifice yourself. Do that and you will finally become yourself. Could you ever become anything more glorious? Could you ever give more glory to God?
Bill Lawrence is the President of Leader Formation International (LFI) as well as Senior Professor Emeritus of Pastoral Ministries and Adjunct Professor of DMin Studies at Dallas Theological Seminary.
Bill began LFI in 2002 to minister to leaders around the world who are impacting the nations for Christ. Having watched God form his own life as a leader-mentor over thirty-seven years in ministry (including twelve years as a founding pastor, twelve years as the Executive Director of the Center for Christian Leadership, and over twenty-three years as a seminary faculty member), Bill helps other leaders recognize the reality that their success as a leader depends upon God's formative work in their heart. Bill has been privileged to personally serve leaders in Asia, Central Asia, Europe, Latin America, and Africa. He has also produced a six-part video/workbook series, Forming Davids for the 21st Century, which is a perfect resource to help groups of individual leaders engage with each other in the leader formation journey.
Publication date: July 13, 2011
Recently on Pastors / Leadership
Have something to say about this article? Leave your comment via Facebook below!
advertise with us
Example: "Gen 1:1" "John 3" "Moses" "trust"
Advanced Search
Listen to Your Favorite Pastors